Coloured pencil topics
Coloured pencils are easy to use, but like most things, it helps to have a little instruction before you dive in! 
Your basic questions such as what paper and pencil brands to use, how to layer or burnish coloured pencils, and the art basics such as how to get your outline on the paper will all be covered here. But we go much, much further than that!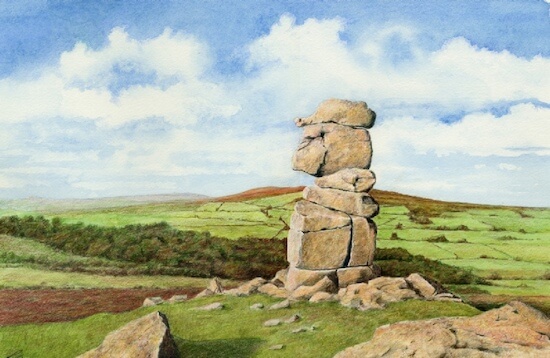 The Bowerman Stone, a coloured pencil landscape by Peter Weatherill
In addition to coloured pencils you will also get to know pastel and watercolour pencils and how to use them in combination. You will discover complementary colours and what they can do to lift your art to heights you may never have imagined. 
It's not all theory - you can watch over the shoulder of two different artists as they talk you through their thoughts and processes while they create outstanding artwork that you can attempt yourself. These tutorials range from beginners pieces such as a bowl of fruit to complex landscapes that extend over many pages of the site.
If you want to meet the people behind the site (that's us over on the right hand side of the screen) you can check out the About Us page, and we are open to direct questions if you wish to e-mail us.
We will be adding interactive pages so that you can share your work and ask for suggestions or critique from both us and your peers.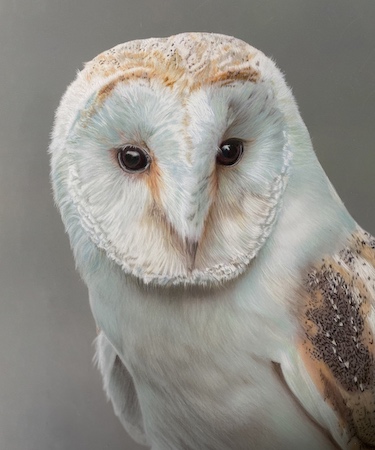 Barn Owl, coloured pencil, by Carol Leather
In fact there is so much information here that you might need to see it all laid out in an easy to follow guide so we have created a Contents page to help you get started. Once you get surfing you will find that the pages interlink and you can get to other pages of interest by following links throughout the text or from the related boxes at the bottom of each article. If you get lost at any time, come back to the contents page found under the Home button.

This site is never static and continues to grow even though it began life back in 2009. So remember to bookmark it and revisit regularly to see what has been added. You might find brand new topics have been added, or extra info has been grafted onto existing pages so it's always worth checking things out.