Coloured pencil drawing step by step
Imagine you could watch Peter drawing step by step and learn his thought processes as an image progresses. Well you can by checking out these step by step articles!
The exercises include wax pencils, watercolour pencils and mixed media. All the notes were written as he went along, and he explains what he was thinking when he comes across minor problems. The photos were taken at the time and some were not taken in 'studio' conditions so there are sometimes variations in colour between stages, but that should not detract from the lessons you can learn here. 
The drawing step by step pages are also linked from various other sections of the site but this page draws them altogether so that you can find them easily. 
Dry Coloured Pencil Tutorials
The fruit bowl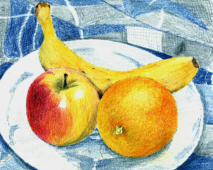 Rectory Garden
This still life fruit bowl exercise dates back to the earliest days of Peter's teaching. Back then the UKCPS (UK coloured pencil society) ran a stand at the NEC in Birmingham, which enabled visitors to try out different pencils. 
A pdf file is included of the drawing and the reference photo ready to print out. 
The Rectory Garden is an old tutorial used for many years on Peter's courses and was most recently taught in 2016. The picture is a small one of a view through a brick archway into the garden and uses Polychromos pencils.
The Bowerman Stone

Two drawings from the same image of the Bowerman Stone on Dartmoor, Devon. Guidelines for drawing the texture of weathered rocks along with a moorland background are shown. Watercolour pencils were used for the early stages of the landscape with the stones worked in wax based pencils. 
Tavy Rocks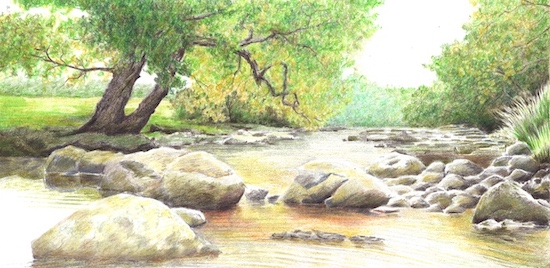 A rural English landscape, again from Devon, this time in the Peter Tavy/Mary Tavy area. This project shows a river scene with a large tree with overhanging branches. It is worked in polychromos pencils. 
---
Watercolour pencil tutorials
Grand Union Canal
Coventry Canal
Grand Union Canal - an exercise using watercolour pencils and then dry colour on top. It shows a scene with a bridge, a traditional narrow boat and water reflections. 

Coventry Canal - another image using watercolour pencils to develop this rural scene of trees, grasses and water as the canal winds through Staffordshire. PDF files of each of these projects are available to download. 

Polperro Harbour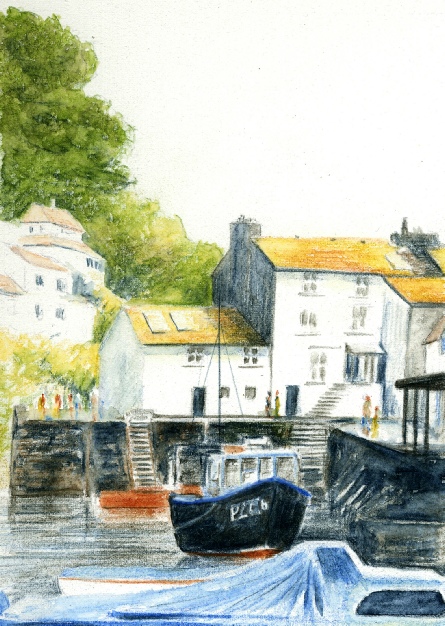 An exercise in line and wash with watercolour pencils. The drawing step by step covers trees, buildings and boats in the harbour of Polperro in Cornwall, UK. 
Cours Mirabeau, Aix En Provence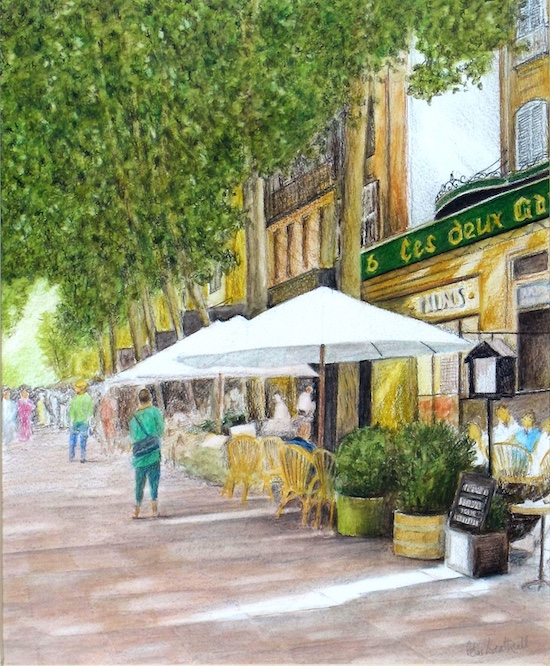 A busy street scene in watercolour pencils, which was first published on the Pencil Topics forum as a step by step. 

Italian Street Scene
This watercolour pencil tutorial features an Italian street scene. 
Scottish hillside
A quick demonstration using watercolour pencils to create a soft background.
Brokken Bridge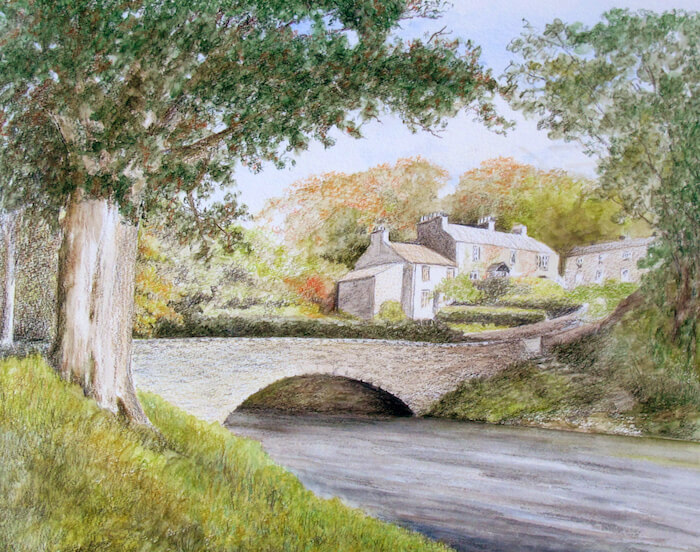 A scene from Yorkshire of an old packhorse bridge worked in watercolour pencils. 
Venice Grand Canal
Another drawing step by step completed in the early part of 2017. This view of the Rialto Fish Market in Venice from the Grand Canal was completed three times, using different pencils on the same type of cold pressed watercolour paper. PDF files of the references are available to download and the page summarises the work completed with Derwent Watercolour Pencils. 
---
Pastel Pencil Drawing step by step
Pastel pencil beginners tutorial
Annecy Reflections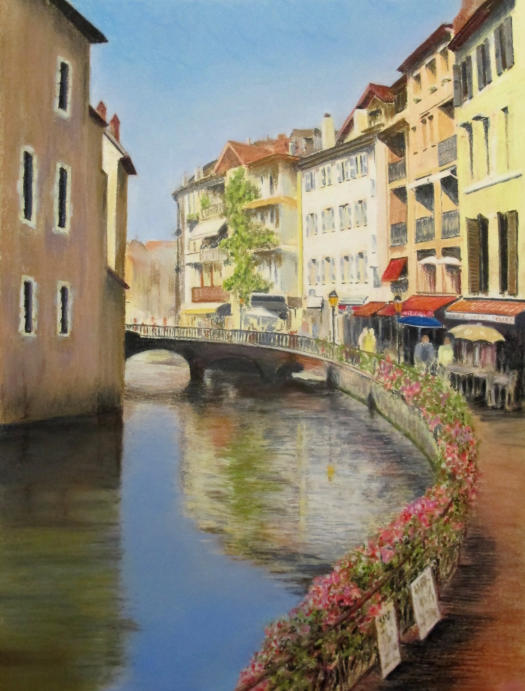 ---
Mixed Media Tutorials
Cottage Entrance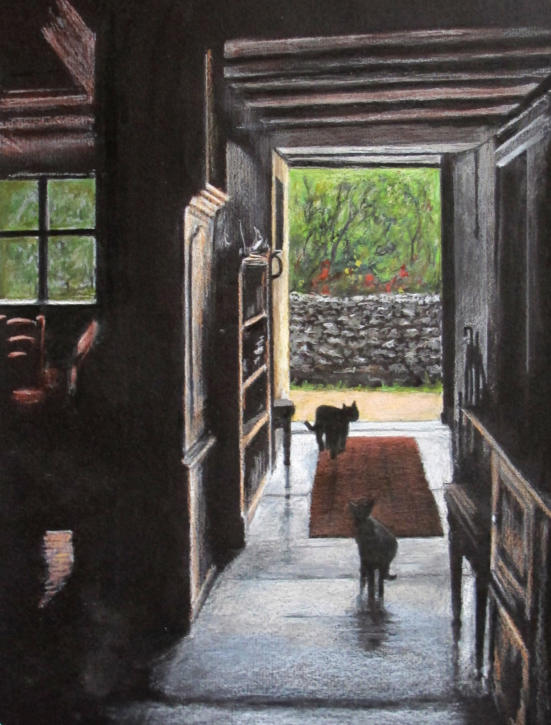 Abbey
A mixed media exercise on black paper using pastel and coloured pencils. The use of pastel pencils is not essential, but it does make it easier to get the strong whites of the light coming through the doorway from the garden. 
Allerford
An extended illustration of the development of a landscape drawing step by step involving buildings and trees worked in both coloured pencil and watercolour pencils. 
This was originally worked by an online group over several months and the notes are a summary of the pages of record of the online discussion. PDF files are available should you wish to work along with this drawing step by step. A shortened set of notes in a pdf file can be downloaded and printed off to assist you. 
Peters finished drawing of Allerford
---
Student step by steps by Daryl Cogavin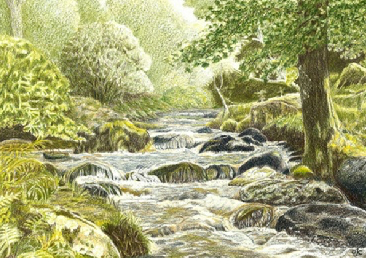 ---
---