Coloured pencil drawing step-by-step
Imagine you could watch Peter and Carol drawing step by step and learn their thought processes as an image progresses. Well, you can by checking out these step-by-step articles!
We also link the drawing step-by-step pages from various other sections of the site, but this page draws them altogether so that you can find them easily. 
Dry Coloured Pencil Tutorials
The Fruit Bowl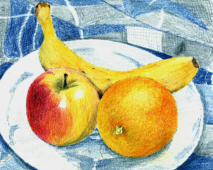 A step-by-step guide on how to create a still life drawing using colored pencils.

It includes instructions on sketching the objects, starting with the orange, and building up layers of color to create texture and depth.

The guide also covers shading techniques for the apple and banana, as well as tips for creating a complementary background. 
Downloadable outline sheets.
The Sweet Jar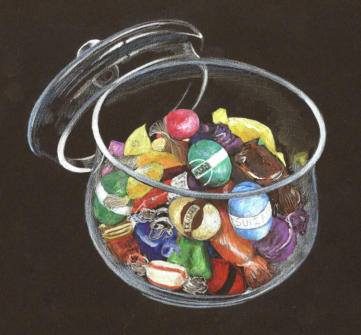 Create a colored pencil drawing of a glass sweet jar on black paper.We cover testing pencil brands and methods. Includes a high-quality PDF download of the original photo.
The Rectory Garden
This tutorial provides step-by-step instructions on how to draw a garden archway using coloured pencils on watercolour paper.
We show you how to create a hedge, short grass, taller plants, greenery around the arch and how to shade bricks. Be creative and add your own elements to the drawing.
Wild Cat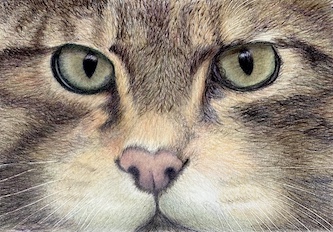 How to draw a realistic cat using colored pencils. This tutorial walks you through the steps of drawing the cat's whiskers, eyes, nose, and fur texture in detail. The final step involves darkening certain areas and adding shading to complete the portrait. Includes reference photo as a download. 
The Bowerman Stone

How to draw a landscape with a focus on the Bowerman Stone. It includes instructions on creating the sky using wax type colored pencils and watercolor pencils for the background moor. The Bowerman Stone's surface is created by building up overlapping circles with different shades of warm greys and dark sepia. Different colors can be used for each version of the picture.
Outline drawing provided as a download. 
Tavy Rocks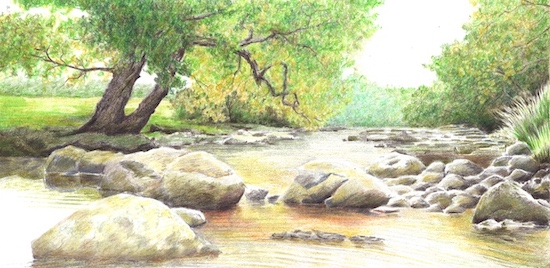 A scene from South West England, shows a river with rocks and a large tree with overhanging branches. Guidance given for adapting the photo to make a better composition. The project looks at the way layers of colour are developed to show the many greens and browns found in nature.
Watercolour pencil tutorials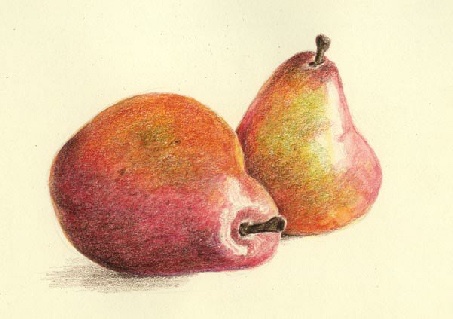 A simple exercise in using watercolor pencils to draw two pears. The exercise shows how dry color can be built up and merged down into the paper with a damp brush to create depth and detail. Beginner tutorial for drawing step by step.
Grand Union Canal
Grand Union Canal - an exercise using watercolour pencils and then dry colour on top. It shows a scene with a bridge, a traditional narrow boat and water reflections. PDF file available to download. 
Coventry Canal
Coventry Canal - another image using watercolour pencils to develop this rural scene of trees, grasses and water as the canal winds through Staffordshire. PDF file available to download. 

Polperro Harbour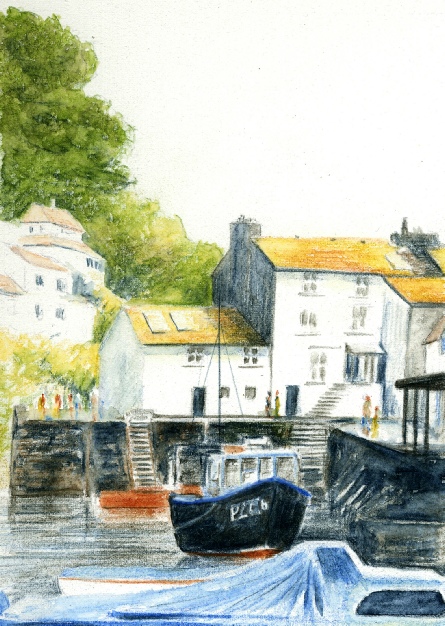 An exercise in line and wash with watercolour pencils. The drawing step by step covers trees, buildings and boats in the Cornish harbour at Polperro.
French Cafe Scene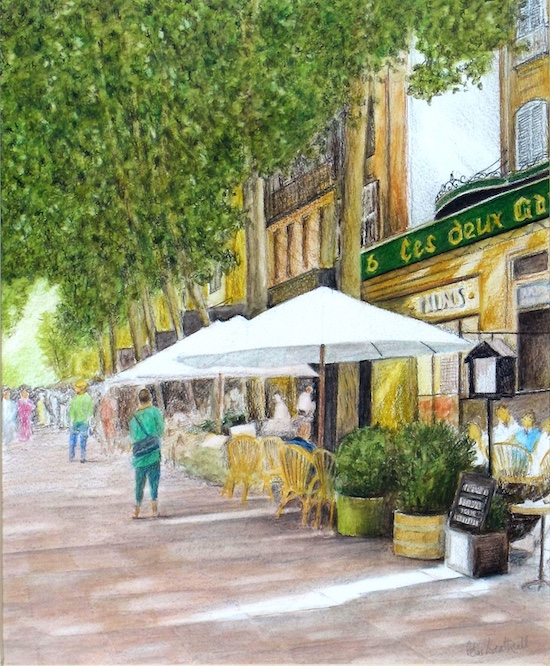 An aquarelle painting of a French cafe scene worked on cold pressed watercolour paper using watercolour pencils. Interesting eraser techniques are used to add shading and highlights.
Italian Street Scene
This watercolour pencil tutorial features an Italian street scene. 
Scottish hillside
A quick demonstration using watercolour pencils to create a soft background to this rural Scottish landscape.
Brokken Bridge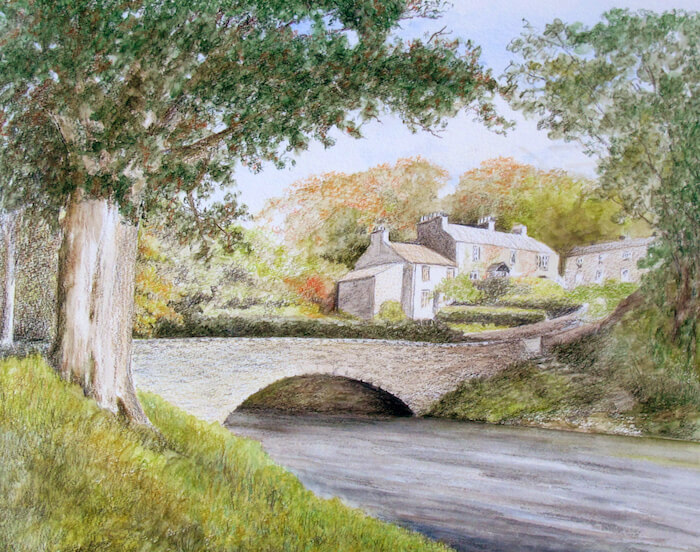 This tutorial provides a detailed explanation of how to use watercolor pencils effectively in landscape painting. Different techniques are used for the grass, trees and other foliage with an emphasis on creating natural looking shapes and shadows. The scene is from a photo taken in the Yorkshire Dales.
Country Lane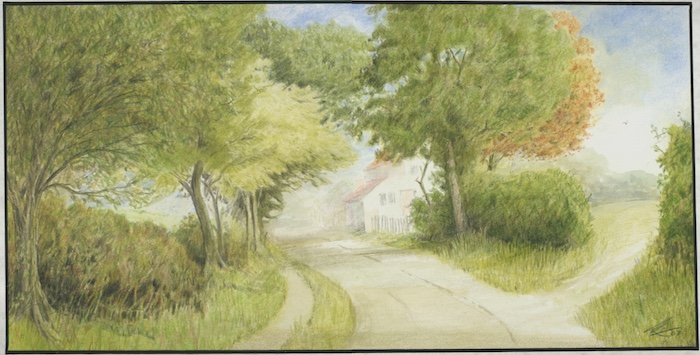 This tutorial employs underpainting with pigment scraped from watercolour pencils before being dissolved and then working on top with dry pencils. An imaginary country lane is the subject of this project.
Venice Grand Canal
Another drawing step by step completed in the early part of 2017. This view of the Rialto Fish Market in Venice from the Grand Canal was completed three times, using different pencils on the same type of cold pressed watercolour paper. PDF files of the references are available to download and the page summarises the work completed with Derwent Watercolour Pencils. 
Venice drawing pages
Pastel Pencil Drawing step by step
Pastel pencil beginners tutorial
A simple vase makes a great beginners tutorial illustrating the use of pastel pencils.
Annecy Reflections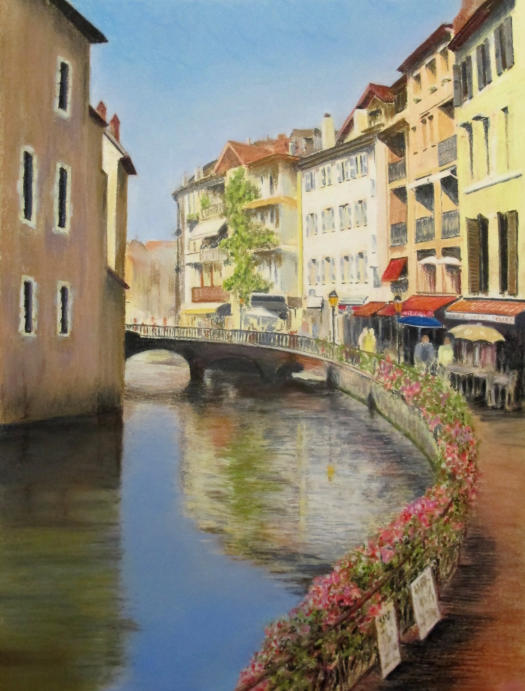 A canal drawing step by step in pastel pencil, commissioned by Caran d'Ache. 
Mixed Media Tutorials
Cottage Entrance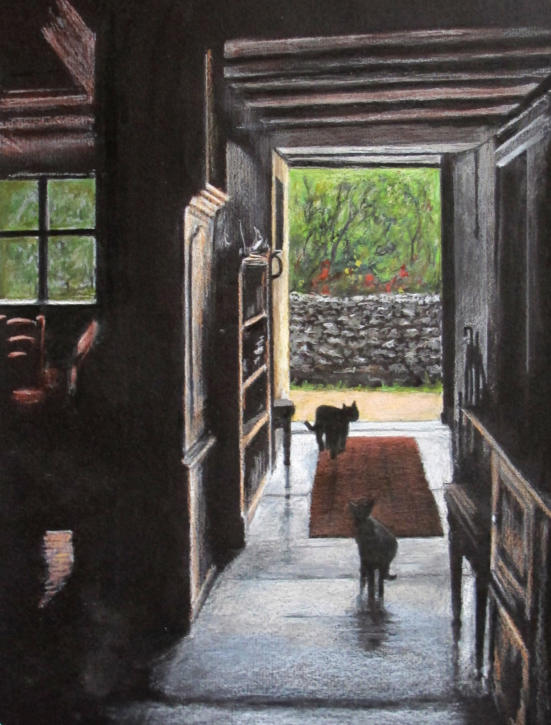 A mixed media exercise on black paper using pastel and coloured pencils. 
Abbey
Abbey of Bellapais combining colored pencil and pastels

Allerford
An extended illustration of the development of a landscape drawing step by step involving buildings and trees worked in both coloured pencil and watercolour pencils. 
This was originally worked by an online group over several months and the notes are a summary of the pages of record of the online discussion. PDF files are available should you wish to work along with this drawing step by step. A shortened set of notes in a pdf file can be downloaded and printed off to assist you. 
Peters finished drawing of Allerford
---
Student step by steps by Daryl Cogavin
Painting Gondolas - mixed media (watercolour and coloured pencil) scene from Venice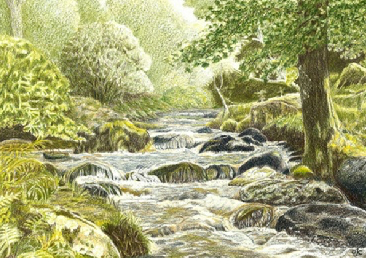 How to draw water - a beautiful woodland stream in coloured pencil

Would you like our occasional newsletter?