Arteza Expert coloured pencils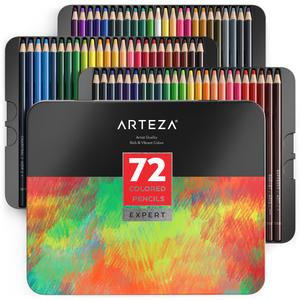 The Arteza brand of coloured pencils have been brought to our attention. We felt that readers of this site may wish to have some information about them. 
The essential information is as follows...
The Arteza Group specialise in art and craft stationery with a wide range of products, mostly marketed over the internet.
Apart from the coloured pencil ranges, they also sell graphite pencils, a wide selection of fineliners and brush tip markers, along with a raft of stationery products. They have sales bases in the UK, USA, Germany, & Spain.
Clearly the pencils are manufactured somewhere east of Suez, but that is not a problem.
They are sold in sets of 48, 72 and 120, both as a wax coloured pencils and also in similar sized sets of Arteza Watercolour pencils.
They are in the 'low cost' range and the 72 sized sets sell currently in the UK for around £20 - £25. They are not available as open stock (I would not expect single pencil replacements at this price).
Unlike another brand recently covered here, the pencils do carry the pigment/colour name, as well as the pencil itself carrying the colour as a coating.
Ivor Harrison has done a full test of these pencils and rates them as much better than the price would suggest.  We feel that these would make a very good starter set or a set suitable for group purchase for workshop use. 
Lightfastness of Arteza Expert pencils
The pencils do have the advantage of having been tested for lightfastness and the pencils carry an indication of this test result.
The pencils are marked with the LF test result as a number of + signs on the end of the pencil, and this indicates that few of the colours are in the top range for lightfastness. One star is the lowest and 3 stars is the highest lightfastness rating.  This is not a problem for a 'beginners' pencil and they are a pleasure to use. 
If you have a concern about colour fading in strong light, then you may need to spend more and go for one of the brands with better lightfastness results, or be very selective over the colours you use from this pencil range.
There is a colour chart inside the lid of the 120 tin, which also shows the number of + for each pencil. This is repeated on the underneath of the tin.
However, for the commission artist, I would personally steer clear as I would be concerned about how long the colors will last. If your art is photographed and then printed for cards, limited edition prints etc, then you would not have that worry. 
Would you like our occasional newsletter?