Caran d'ache artists coloured pencils 
Caran d'Ache artists coloured pencils are imported from Geneva in Switzerland, They are marketed in a range of individual brands.
Caran d'Ache are one of the newer brands in Europe having been founded in 1915 as a manufacturer of writing instruments. They have built up a strong reputation for quality in the years since.
The Company produce a wide range of art media and continue to develop new lines
Caran d'Ache Pablo
The oil and wax based dry point pencils from Caran d'Ache are branded Pablo and come in 120 colours with a good selection of natural shades - ideal for landscapes and wildlife.  
They are medium soft and are very close to Faber Castell Polychromos in feel, but harder than Derwent Coloursoft.  The Pablo pencils layer well, and build up a good depth of colour
They tend to be more expensive than other brands and distribution around the UK is not evenly spread. European distribution is better. 
You can download the Pablo colour chart here.
Supracolor Soft water soluble pencils
Supracolor Soft are a water soluble pencil with a soft feel which works well both as a dry pencil and an aquarelle. This brand also has the same 120 colour range as Pablo. If you could only afford one good full set with a wide number of options, Supracolor Soft would be a good choice. Single replacement pencils are readily available over the internet.

One good point with the Supracolor pencils is the fact that when the dry pigment is wet, the colour becomes more intense (in common with all aquarelles). However, this brand has very little colour shift so the colour you put down remains the colour you wanted. 

A colour chart of the full colour range for Supracolor completed from the actual pencils is shown further down this page. This is not in the standard format of the colour comparison charts featured elsewhere on the site as it was completed some years ago when Peter first tried out the full range of Caran d'Ache Supracolor. It shows the effect of adding water to the dry colour.

Caran d'Ache Museum Aquarelle watercolour pencils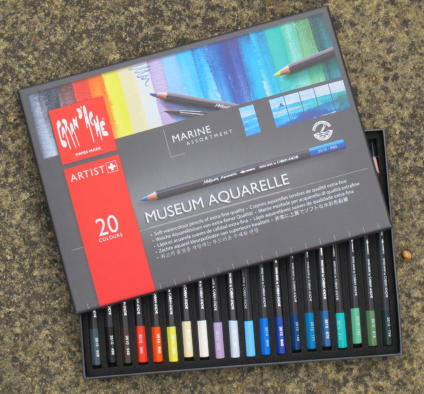 In the summer of 2013 Caran d'Ache Museum Aquarelle Pencils were introduced into the UK. 
These are softer than Supracolor, but contain more pigment and therefore produce strong colour effects. My feeling is that the pigment level lies somewhat less that the Derwent Inktense but substantially higher than Supracolor Soft. 
Some caution is needed when using this pencil line for the first time - get used to the result of adding water to the pigment before launching into a masterwork.

Caran d'Ache Luminance 6901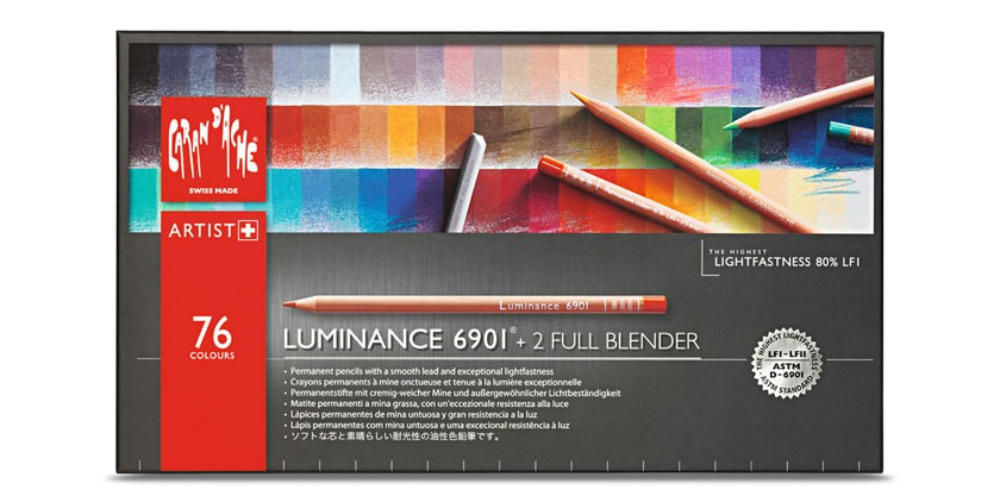 A lightfast non-soluble pencil, Luminance 6901, a blend of some waxes but mainly oils, first came on sale in the UK during 2008. The number relates to the American ASTMS standard for lightfastness. 
The Caran d'Ache Luminance pencils have a high pigment level. All the 76 colours are lightfast. However, some colours come in varying tone strengths, so you don't actually get 76 unique colours.  The idea of having two or three shades of a colour is helpful to the artist, however, and the collection is a good one.
The recommended retail price (RRP) for Luminance is around twice that of other quality pencils so there has been some sales resistance in the past.  In sets they usually retail at around £2.60 per pencil, RRP, but there are offers from time to time which are worth taking up. Single pencils are available to replace used ones.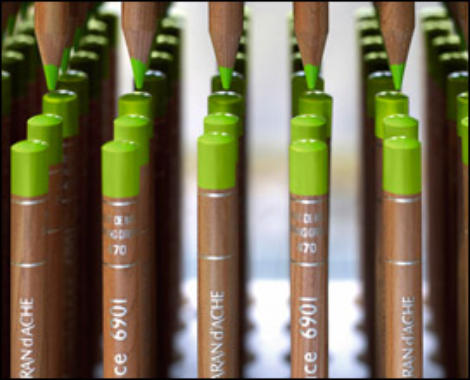 The white Luminance is possibly the softest and best white dry point pencil I have come across and it will keep on working long after other brands have given up.  Most useful for highlights and when working on black or dark papers.  I don't try to use other brands on top of Luminance, though.

Overall, very good soft  pencils.
UPDATE   Luminance pencil design have been improved since launch with a fresh appearance to the pencil. The new design carries the colour, previously just at the extreme top of the pencil, down the sides a little way so that the colour can easily be seen as the pencil sits in the box or on the table top.  The lettering on the pencil side is still printed in illegible silver, but you don't get everything perfect in one go!
Lightfastness
As at August 2010 the position over lightfastness in coloured pencils was complicated by the withdrawal of the Prismacolor lightfast range. The only other brand meeting ASTMS 6901 at that time were the Talens Van Gogh pencils. Now marketed as part of the Sakura group and whilst still available, they are believed to be now only sold in sets. ( 2019 ).   
You may be interested to see the chart published by Talens that explains the matching of the star ratings on the pencils to the official ASTMS lightfast ratings.  ASTMS LF1 is the highest rating for pencils.


Cretacolour coloured pencils from Austria meet the terms of ASTMS D4303, which is not the same - but a similar ASTMS Lightfastness Test is done on the pigments rather than the pencils.
Luminance from Caran d'Ache filled the gap left by the departure of Prismacolor.
If you wish to buy pencils that meet an ASTMS standard for non fading, then the choice is either Luminance, Van Gogh, Cretacolour, Derwent Lightfast or a careful selection from the ranges of other manufacturers by reference to their detailed charts, avoiding low rated colours.
This reduced competition makes the position of Caran d'Ache very much stronger.
Neocolor crayons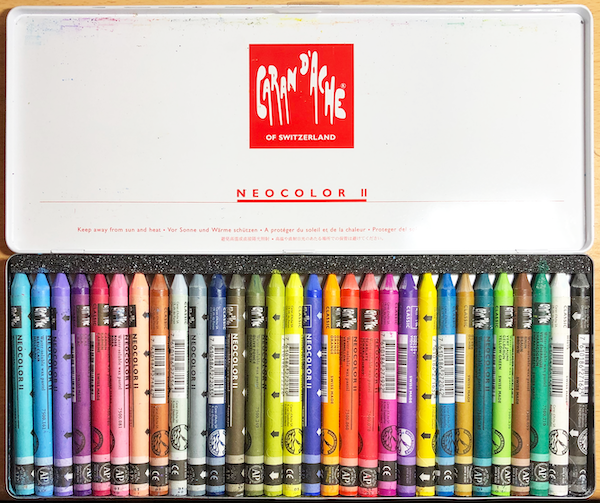 Neocolor 2 soluble crayons
Also in the Swiss range are NEOCOLOR .  These are solid wax crayons in a wide range of colours and can be used with the pencils.
NEOCOLOR 1 are non-soluble and come in sets of 30 with some extra metallics.  They can be used on a wide variety of unusual surfaces and are stable once the work has been polished to burnish the surface.  I have seen them used on wood and terracotta, and also over Matt Acrylic.  They appear to have limits only on glossy surfaces.
The big range are the soluble ones - NEOCOLOR 2 - which come in 126 assorted colours as well as singly. These don't leave as strong an indented line when drawn (they are, after all ,a soft crayon) but they do wash in readily and blend on the page.   Good for larger works but not as easy as pencils to achieve any detail.
They can be used, both wet and dry, as an undercoat with coloured pencils added on top. 
Prismalo pencils
For those who like a fine pointed, hard colour Aquarelle pencil, Caran d'Ache PRISMALO is still available.
This is an old line, but still useful. Price wise they are less costly than the lines shown above and they are available through Great Art at about the same prices as Lyra lines. 
There is also a student quality aquarelle branded SWISSCOLOR which is targeted at schools and colleges. I have not handled this pencil.

Other Caran dache brands
Other pencil brands from Caran d'Ache (which may not be easily found) include the original Museum line which had a range of 24 highly water soluble 'leads' which fit in a propelling pencil holder. This  product had an advantage for those unable to sharpen pencils easily.
The colour range was said to be lightfast to a high standard though I don't have data. The colour range was limited but the basic colours were there and being soluble, there was the ability to mix colours which were not represented. 
For most people, though, this line would be an expensive option compared to traditional wood cased pencils.  They were not so easy to use as the colour 'lead' had to be changed over every time unless you had extra holders ( which were expensive).
In 2011, The Company  launched a blender/burnisher for colour pencils based on the colourless core of the Luminance pencils. This is a woodfree stick of solid transparent waxy material which can be sharpened in a blade sharpener and is very effective for blending laid down colour from wax and oil based pencils.  The sticks are sold as the FULL BLENDER BRIGHT in packs of two sticks 17cm long, and can also be used to glaze over artwork and are said to protect against UV light.
In addition to the aquarelles and non-soluble pencils, Caran d'Ache market an excellent range of pastel pencils which are reviewed in the Pastel Pencil section.
Availability of Caran d'Ache products is usually easier over the internet from the UK retailers, such as Ken Bromley Art Supplies, or Jacksons.
Caran d'Ache Supracolor Colour Range

The selection of colours in the full set and the effect of using water on them

Several years ago, Peter bought his first full sized box of Caran d'Ache Supracolor pencils. This was before the Topics' site was a mere twinkle in his eye. He set to with the pencils on a large sheet of 500gsm watercolour paper to draw out a full chart of the colours - dry and wet.
We show a photo of that chart below and though it is not perfect as an example of all the colours, it does show how little most of the colours are affected by the addition of water.
Column 1 - dry colour
Column 2 - concentrated wash
Column 3 - a clean, wet brush dragged across the dry colour producing a fading wash
The colours in the central section of the first column (on the left) are a set of very pale colours and these do not show at all well in the photo. Be assured that the colours are there in the original, and the same sort of results are seen as in the stronger shades.
The third colour down in Column 2 is Bordeaux Red. This is one of the few colours to show a step change in strength when water is added. 
There are two or three other colours that also come up stronger, but it is fair to say that no colour takes on a different shade when wet - the colours remain faithful to the intention of the artist.
Note for example, though, Apricot in column 4 is not a yellow. In real life the colour is correctly an apricot colour. Here the photo colour balance is incorrect.
The decision taken then and shown here, is that whilst many brands of aquarelle pencil show a marked change in some colours - either in colour or strength - when wet, the Caran d'Ache Supracolor pencils are remarkably stable.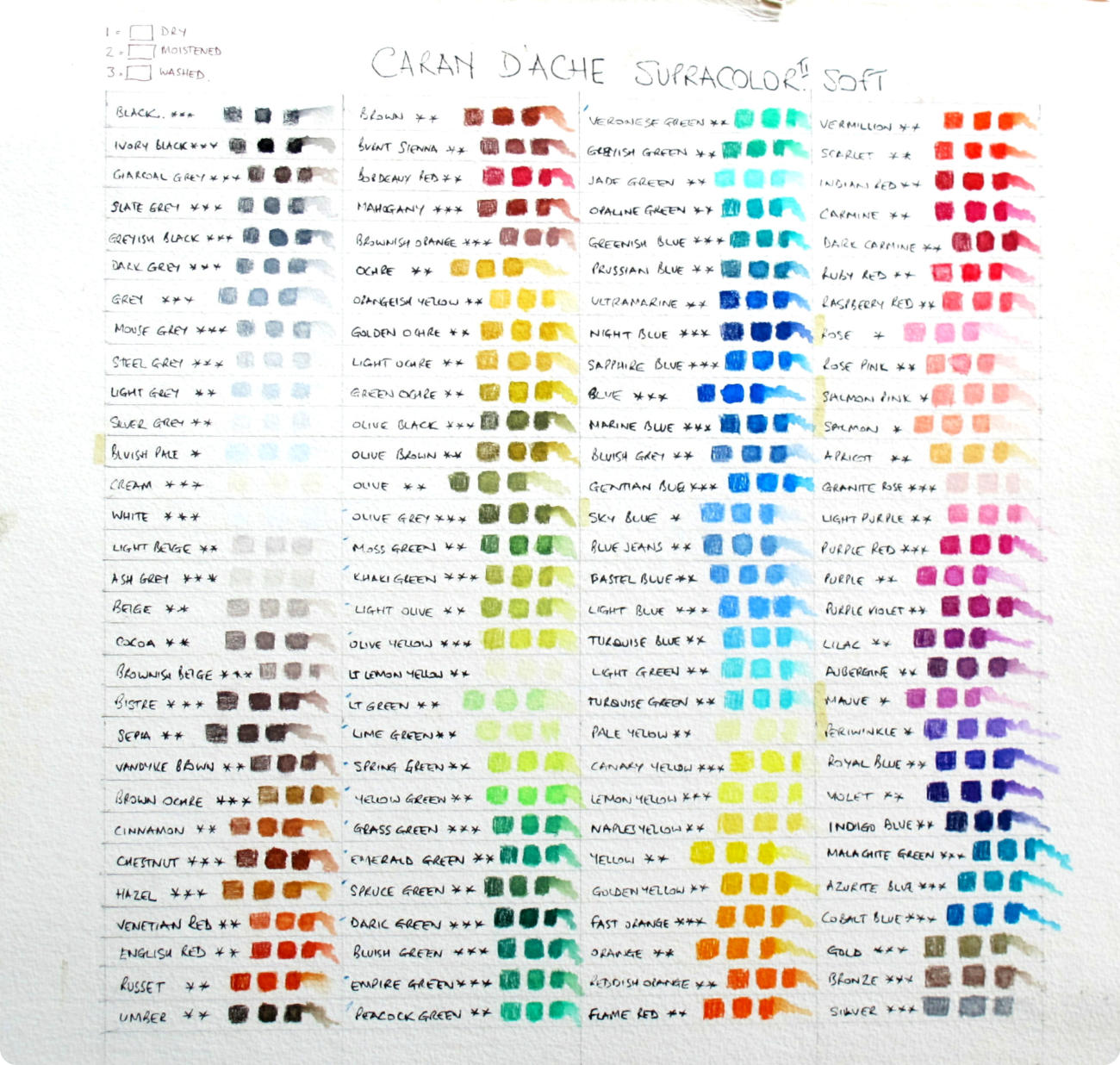 Caran d'Ache Museum Aquarelle soft lightfast pencils

This relatively new member of the Caran d'Ache Artists range was introduced into the UK market in July 2013.
The pencils are of larger diameter than most in the Caran d'Ache ranges and are highly pigmented and very soft. The lightfastness ranges from 5 star to just the one colour of the 76 (Dark Plum) which is rated 2 . The Blue Wool scale ratings run from excellent (5 = 100 years stability) to 3 star on a very few other colours which are rated 'good'. 
The next size selections are of 20 colours each in a box of Landscape colours and a box of Marine colours. Buying both these boxes enables the artist to have a good selection with very few duplicates. 
The remaining colours of the full set of 76 became available in October 2013 through selected UK retailers as single colours.
Prices run at about £2.50 a pencil, which is good value for such quality - particularly compared to what the artist now pays for a very small tube of watercolour paint from a market leader like Winsor and Newton.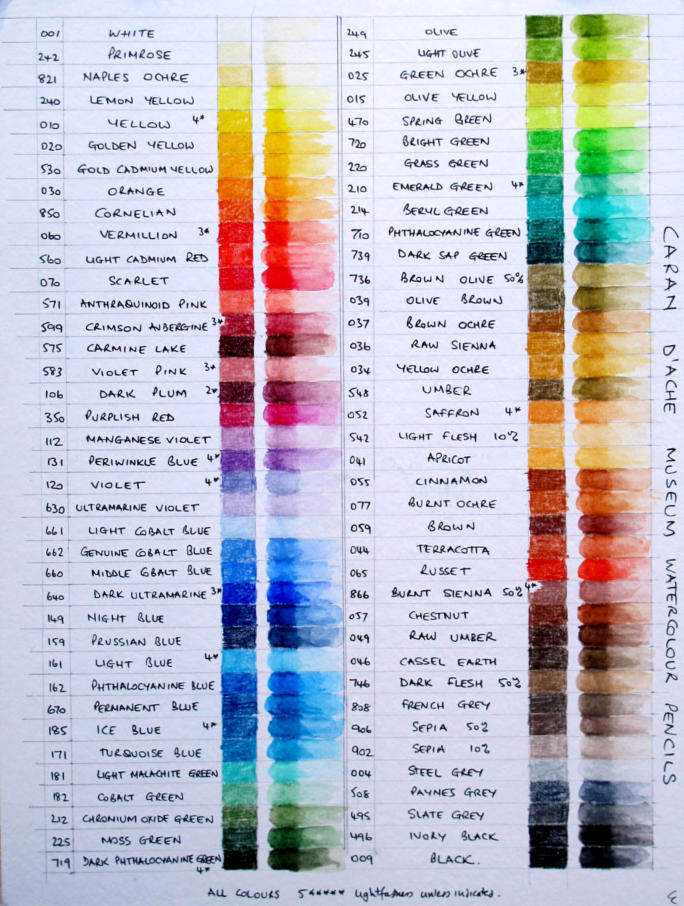 This chart of the full 76 colour range shows the vivid range of highly pigmented colours. The first sample in each line is the dry colour. The second sample of each shows the effect of adding water and you will note there is no major colour shift as a result.

When this range of pencils was introduced, a small trial set of 6 colours was marketed to promote the idea that colours could easily be mixed from a small set.
A competition was run and some remarkable pictures produced, using just the 6 colours. The prizewinning entries were featured online but with time, the site has now been updated and the examples removed.
Peter undertook commissions with these pencils, such as the house portrait shown here, which were well received.

In Summary
Caran d'Ache pencils are readily available from Internet sources and in the UK, a number of retailers stock the sets.   
A good source of both sets and individual replacement pencils is the Dartmouth based family run company www.pencils4artists.co.uk. 
Sets can also be sourced from larger Internet organisations such as Amazon (who often quote supplies from a range of smaller art materials companies)  but large discounts are not usually available. 
If you see a good offer from a reliable source it can be worth taking advantage of. Always bear in mind that when you buy pencils from the Internet, should the goods arrive damaged or in any way faulty, then you need to have easy recourse to the seller to get an exchange or refund.  Check the position before you click 'buy'.

Would you like our occasional newsletter?