Staedtler pencils
Staedtler pencils are manufactured by a German based group from Nuremburg that operates worldwide. They have a pencil making history going back to the mid 1600s.
The Group is unusual in that it is owned by an Educational Foundation, the main purpose of which is the promotion of scientific research at German polytechnics and universities, in particular at the Friedrich-Alexander University of Erlangen-Nuremberg. The group makes a vast array of pencil products, mainly for educational and craft use but only one brand falls within our specialist orbit.
The KARAT AQUARELLE pencils are a high quality student brand, of Staedtler pencils and as such, are attractive to artists as a lower priced alternative watercolour pencil.
Staedtler Karat pencil set of 24
The pencils are sold only in sets which go up to a  full set of 60.
The pencils are quite hard and therefore sharpen to a fine durable point, which makes them useful for fine work.  The colour core dissolves readily to enable good watercolour washes and the pigment behaves well on paper when wet, though care is needed ( as with many aquarelles ) when trying to wash out a drawn line. Some of the darker colours change when wet, so it is wise ( as with all Aquarelles ) to do a test sheet of the whole colour range in your set to see them on paper both dry and after wetting.
Peter used these pencils for beginner courses as they are reliable and inexpensive. They sharpen easily and keep a good point.  Students like them and, once they have tried them, will often buy a set to use alongside their usual brand.
Many of the colours are permanent after wetting.
Available mainly through Internet sale, the full set of 60 retails around £50 from Amazon.co.uk, who seem to have a special deal going with Staedtler! 
The RRP for 60 is around £85 but you can get them from a number of retailers at around £60. They make an excellent introductory set providing a wide selection of useful colours.
They are not perfect as an aquarelle coloured pencil as noted above - some of the darker colours can have quite a large colour shift when wet, but they are very usable, and dissolve well with water.  They offer superb value.  Peter uses them a lot for underpainting as the pigment is very finely ground and makes smooth washes.
An exercise with Staedtler pencils
In the Spring of 2017, he did an on line step-by-step exercise using cold pressed watercolour paper (a challenge for watercolour pencils) and three different brands of aquarelles.
Of the three tests, - which all produced good pictures, the Steadtler karat were, in his opinion, the easiest to use and they produced the best result.   The picture below was completed with the small 36 colour set of karat pencils which retails around £40.  The full 60 set is not a great deal more to pay and offers a much better deal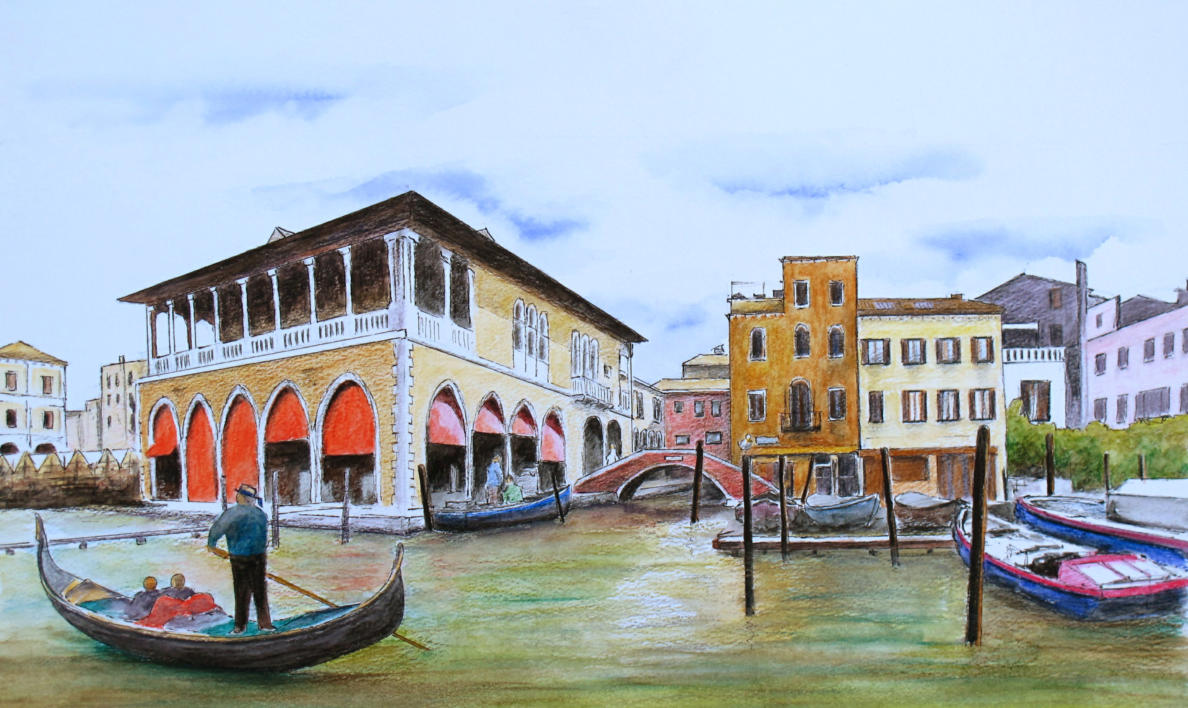 As an alternative to Amazon, have a look at  www.greatart.co.uk
The UK Company Website is at  www.staedtler.co.uk

Would you like our occasional newsletter?