Koh I Noor coloured pencils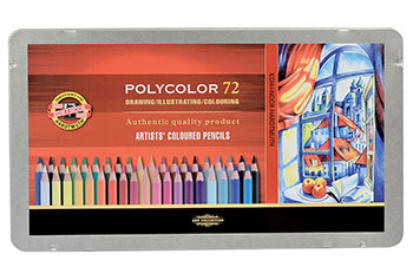 Koh I Noor pencils have been manufactured by the Hardtmuth firm in the Czech Republic since the late 1800s and their various brands of coloured pencils have a  reputation for high quality at a reasonable price.
Until recently, suppliers to the UK market were notable for their absence (or lack of publicity). Now, both Jacksons Art Supplies and Amazon in the UK, are listing stocks.  Jacksons have a wide range of the Hardtmuth graphite types and I see they now advertise stock of the  three main coloured varieties.
in June 2016 individual pencils were not available in the UK for this brand, but they were available in Europe and also in the USA.
Peter's original notes from November 2015 are shown immediately below, but in June 2016 he had correspondence with a reader based in the USA who has sent him a review and comparison based on her experience.   This review is included at the foot of this article and may prove helpful to other readers considering this brand.
Polycolor wax based pencils
Koh-I-noor Polycolor comes in boxes ranging from 24 to 72.  The publicity seems to vary in how they are described, but the core of information is that they are highly pigmented and have a soft feel.  Some publicity describes them as 'soft and waxy',  some says that they 'avoid wax build up', and the USA, the Koh-I-noor site states that they contain 'special oils'.

n June 2016, advice from a site reader who had contact with the company, stated that the pencils are principally oil based, with some white clay, and only a little wax.  This is very much in line with other manufacturers in Europe who try to avoid too much wax ( to prevent wax bloom), but include some wax to keep the soft feel of the oil based pencils.
One of the complaints from USA reviewers was that the colour range was too small.  I would not consider 72 a small range, but the reviews I read were 2 years old, so it may be that the writer was looking at a smaller set and there is now the larger set of 72 available that is listed today.
Koh I noor Mondeluz Aquarelles
Koh I noor Mondeluz Aquarelles are also now listed in sets or 24 up to 72, with the 72 set priced around £54 ( a very reasonable price).
Gioconda Pastel Pencils
Koh I Noor Gioconda Pastel Pencils appear to be available in sets up to 48 in number, the 48 priced at around £53. They were reviewed by a reader of this site living in Germany a couple of years ago and details can be found on the Pastel Pencil brands page.
JUNE 2016 update

Review from reader of the site
This review was received from  USA based reader in June and may prove helpful to readers in the States. Rosemarie writes...
Here is a list of the pencils I own and what I'm comparing Koh-I-Noor to:
115 FaberCastell Polychromos
50 Koh-i-Noor Hardtmuth Polycolor
72Marco Raffines
85 Caran'dAche Pablos (I consider these and use them as a wax based pencil
105 PrismaColor Premiers
48 Staedtler Norris Club and
5-6 each of Lyra Rembrandts and Caran'dAche Luminance
My observation using the Koh-I-Noor Hardtmuth is that they compare quite favorably to the FC Polychromos  (which I consider the best for an oil based pencil), in that  they lay down a good amount of color with little effort, yet they respond well if and when one desires to use pressure,     
They are creamy and smooth almost as much as Polychromos but not as creamy as PrismaColors.
The color cores are just a tad harder than Polychromos,  The Koh I noor pencils work well with other brands of pencils oil or wax. By this I mean blending and layering colors, although currently, I'm using them mainly with my Polychromos and Raffines, my other oil pencils.
They are hex shaped and a bit 'smaller' than Polychromos but cores are a good size,
They sharpen well, hold their points a tad longer than Polychromos, much longer than PrismaColors,
They are clearly labeled - each pencil having the color name and number clearly printed,     
The number of colors is fewer than what is offered by Polychromos and PrismaColors but respectable non the less with beautiful pinks/purples and the best all around olive green, in my opinion.  
They sell sets on Amazon.com and are available open stock from Michaels and AC Moore in the USA.
I have checked the UK situation today (March 17th 2020) for stockists and prices.
Pencils4Artists.co.uk list stock in tins from the Koh-I-noor range as well as offering the Polycolour and Mondeluz pencils singly at 95 pence each. 
Cult Pens ( UK ) also list tins in stock up to the full 72 sets of Polycolor and also list individual colours as open stock.   They also advise stock of 92 colours so I assume there are some extra colours not included in the full 72 set.
I would welcome any other readers with experience of this brand to write in with comments - also on any other brand listed (or even not listed) on the site.  
Would you like our occasional newsletter?