Royal Talens Van Gogh pencils - wax and watercolour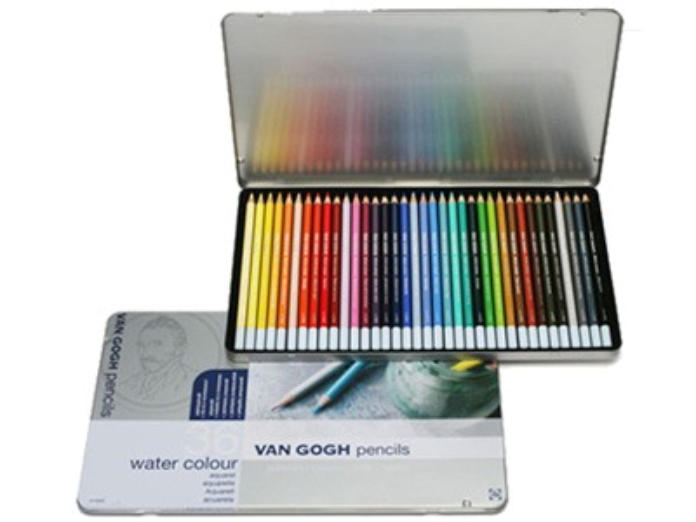 Along with Bruynzeel, Royal Talens is part of the Japanese Sakura Group. The company is perhaps better known for their Royal Talens Rembrandt soft pastels range. 
Their pencil lines, manufactured since 1948, used to be made in Holland but that may no longer be the case. It is possible that this has been outsourced to other parts of the Sakura Group of companies. Stocks have been intermittent in the UK over the past few years which would indicate possible import from manufacture in the far East, through Holland. The company uses sustainable wood for the casings. 
The non soluble version is a good quality wax based pencil of medium softness. The range has the advantage that all colours are lightfast to the American ASTMS 6901 standard.
The Watercolour Van Gogh pencils are marketed in similar sets.
Neither Peter nor myself have sampled them, but they feature in the Judith Crown tests for lightfastness page.
The full sets come in 60 colours and singles were not available until recently. Single pencil import to the UK has now resumed and both sets and singles are now available - see below.
Sets of 60 wax type and watercolour pencils are listed by Amazon ( Sept 2017 ) with supplies provided by Trinity Arts, and also other importers.
In the last year or so, Elkie Wild Art of Ipswich have expanded their pencil sales and now offer single pencils across the Talens/Sakura range ( Van Gogh ) at around £1.20 each. This is an excellent price for a lightfast pencil.  They also supply the lower priced Bruynzeel Design, which comes both as wax and watercolour types.
These are a pencil of good quality, and though the maximum of 60 colours is possibly due to the problems of achieving good lightfastness, this will make the actual selection of colours rather more limited than other brands, who supply up to 120 colours. However, the lightfastness benefit makes them well worth considering.
The Royal Talens website is at  www.talens.com.
Would you like our occasional newsletter?