Bruynzeel pencils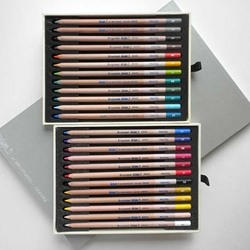 Bruynzeel pencils, along with Royal Dutch Talens are manufactured as part of the Japanese Sakura Group. They were made in Holland but it is more than possible that this has now been outsourced to other parts of the Sakura Group of companies.
The Bruynzeel Design range includes a wax based colour pencil,  an Aquarelle  and a pastel pencil. They each come in a range of 48 colours, presented in a high quality wooden based drawer box. 
I only have experience with the wax based set and found them a good quality pencil
There have been difficulties in finding stocks in the UK - such that I had thought them no longer manufactured.  The wax coloured pencils were well considered by the Parchment Craft enthusiasts and for a while supplies came though one or more of their specialist suppliers, but more recently I have not seen them on offer.
However, research for this newly laid out website reveals that not only were single Bruynzeel Design pencils available through Trinity Arts of Dundee (IART supplies), but that sets and singles of all three types were also available ( September 2017) from Pencils4artists.
An additional supplier was discovered in 2018. The coloured pencil. shop based in Ipswich also stocks single pencils.
The pencils are not cheap, but they are beautifully presented in their drawer boxes, and are good pencils to use. 
Bruynzeel Fullcolor pencils were a brand marketed in to the USA in a range of 50 colours and were listed as 'lightfast'. I understand that these are now being/have been withdrawn from the market.
I have, as yet, no information on the lightfast rating of the Bruynzeel 'Design' range of pencils - though I suggest care be taken over pinks and purples particularly in the paler shades in bright light environments unless specific ratings are known. When I have more information and have had a chance to do further tests I will refresh this page.
Bruynzeel pencils colour chart
The Colour range of the Bruynzeel Design sets of 48 pencils are shown in the sample chart taken from the wax pencils in the range.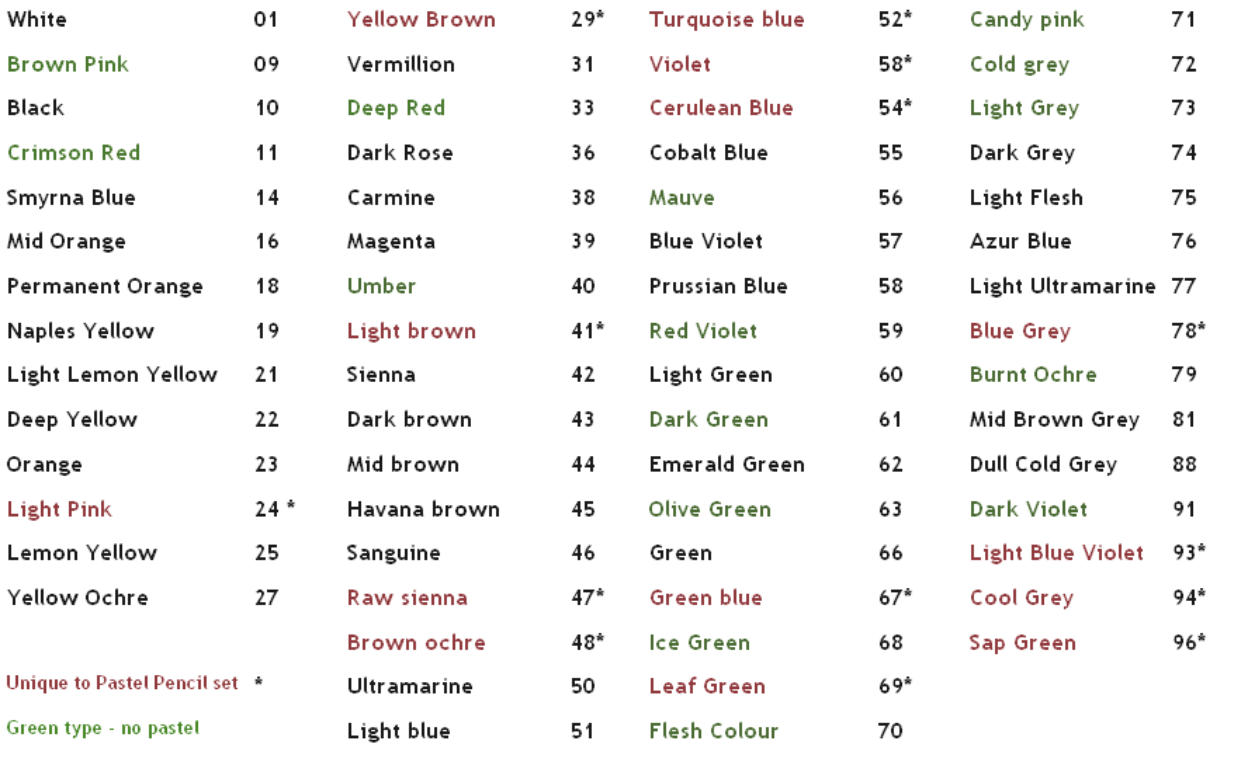 The perceptive among you will notice that there are 63 colours listed in the above table. And only 48 in each set.
This is because the colours in the sets are not uniform - even if at first sight they appear to be similar.
A  number of colours are unique to pastels   They are indicated by red type and by an asterix in the table above against the number. There are 14 numbers that are unique to Pastels .
The other two sets of 48 coloured pencils - wax and aquarelle are the same.
The 14 colours shown in Green type are unique to the Wax and Aqua pencils
The 34 Colours indicated in black type (above) appear in all three sets.
Would you like our occasional newsletter?