Pencil colour comparison chart
A colour comparison chart is very useful when you are reading a coloured pencil tutorial which quotes a pencil brand that you don't own .
This is especially problematic if you are using a book published in a different country to the one where you live. Pencils manufactured in your own country are often easier to source than foreign brands. 
Without a colour comparison chart you have limited choices as to what to do and would likely have to ignore the listed colours and use those that you have to hand. This way, you can complete the picture to the best of your ability -  being aware that it is unlikely to look like the one in the book or tutorial. You're drawing will be a different  version of the project, but you can still pick up the techniques taught in the process.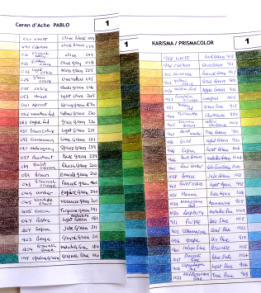 Back in 2010, several artists and teachers tried to put together a guide to match up colours to get the nearest to the Prismacolor range using European brands. Bob Ebdon, founder of the UK Coloured Pencil Society, spent months in his studio preparing colour comparison charts which Peter scanned and printed off. These were sold by the UKCPS.
Following that, Peter prepared a second range of charts which were published in the early editions of this web site and were available for free download. The second version looked like the photo here. 
The idea was that you printed out the chars from PDF files on the site, cut them out and then could match colours across a range of charts o find the nearest to the one that was listed in your tutorial. 
These charts are now out of date. Of course since then, many new brands have appeared, so the list is no longer comprehensive. 
More recently, up to date colour comparison charts have been produced by Karen Hull, a professional pencil artist who lives in Australia. These are readily available and contain recent brands which have come on the market. Karen also shows the impact of using different papers, which is very helpful. 
The colour comparison charts extend to 55 pages of data and cover the following brands of pencils...
Faber Castell Polychromos
Prismacolor Premiere
Derwent Artist pencils
Caran d'Ache Pablo
Caran d'Ache Luminance
Derwent Coloursoft
Lyra Polycolor
Derwent Drawing
Derwent Lightfast
I can strongly recommend Karen's colour comparison charts which can be purchased from her website.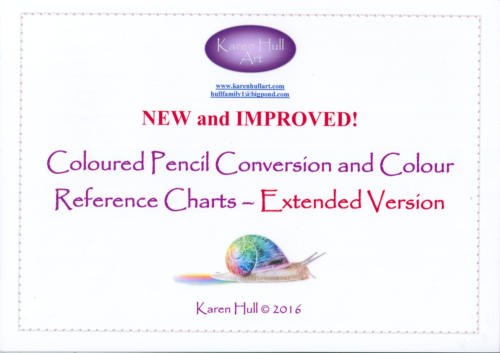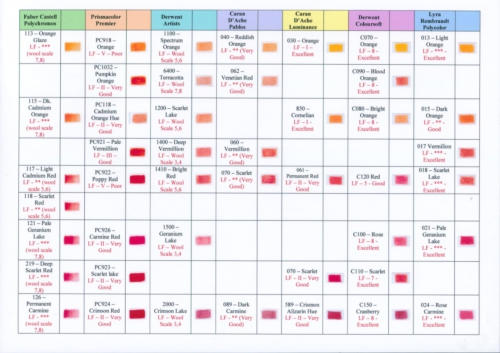 There are also charts showing colour swatches for every pencil in each brand on 6 different supports, so you have an easy reference to see which surfaces might suit your needs best. The surfaces shown include Fabriano 5 Hot Pressed, Drafting Film, Black Matt Board, Colourfix Suede, Canson Mi-Tientes Tex and Stonehenge. 
With such inclusive and up to date colour comparison charts available, there is no sensible reason for me to try to compete and do a further set. Go Karen!
Comparison packs
It is worth mentioning that UK based pencil retailer pencils5artists has introduced a range of 'comparison' pencil sets taking a variety of brands in wax type, watercolour and pastel pencils. They also provide mixed sets so that artists can handle and compare similar pencils and decide which ones they prefer, You can check these out here... http://www.pencils4artists.co.uk/exclusive-p4a-selection-tins-c102x3370943
Peter has used this family run business over many years to replace stock originally supplied by manufacturers and has found them reliable, competitive and helpful. They do sell overseas, but obviously the postage and packing costs will be more than for UK customers..