Pencil colour comparison chart
When I'm reading a coloured pencil tutorial that quotes a pencil brand that I don't own, I find that referencing a colour comparison chart is helpful.
Pencil brands vary from country to country and tutorial authors tend to use those that are easily available in their locale. For example, in the UK, Prismacolor pencils are more difficult to find than in the US. It may be that the brand is not available in your country; or that you don't have access to a supplier who has it in stock.
If you do not want to rely on the brand specified, then you may need to choose a suitable alternative. This could be difficult if you don't know the brand or its characteristics.
You may be able to successfully recreate what you see at first, but your artwork may not look like the one shown in the tutorial or book. You'll still pick up the techniques that you need, though!

The first colour comparison charts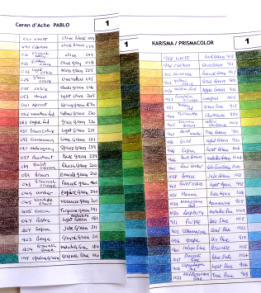 A group of artists and teachers were frustrated by the difficulty of matching colours from the Prismacolor range to European brands. So in 2010 they decided to produce a guide to help British artists choose suitable alternatives. Once these were created, by Bob Eldon and Peter, they were made available through the UKCPS.

Following that, Peter prepared a second range of charts which were published in the early editions of this web site and were available for free download. The second version looked like the photo here. 
The idea was that you printed out the charts from PDF files on the site, cut them out and then could match colours across a range of charts o find the nearest to the one that was listed in your tutorial. 
These charts are now out of date since many new brands have appeared since, meaning they are no longer comprehensive. 

Karen Hull's colour comparison charts
More recently, up to date comparison charts have been produced by Karen Hull, an Australian coloured pencil artist. These are available to download for free from her website. If you prefer you can also purchase a spiral bound printed version.
In addition to containing current brands of pencils, Karen also shows how different paper surfaces impact the end result.

The colour comparison charts extend to 55 pages of data and cover the following brands of pencils...
Derwent lightfast
Faber Castell Polychromos 
Prismacolor Premier
Derwent Artist Pencils
Caran D'Ache Pablos
Caran D'Ache Luminance including 24 new colours
Derwent Coloursoft
Lyra Polycolor
Derwent Drawing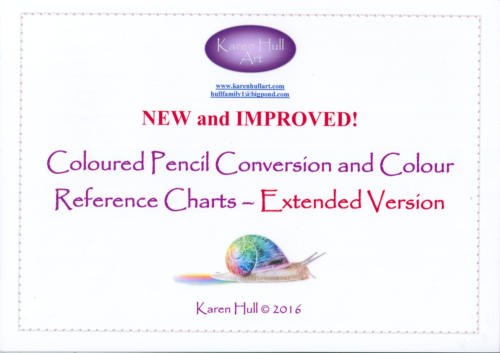 With such inclusive and up to date colour comparison charts available, there is no sensible reason for me to try to compete and create a further set. Go Karen!
Comparison packs
Pencils4artists.co.uk have introduced an array of pencil assortments so artists can try out a range of brands, compare them and decide which ones they prefer. 
You can check these out here (not an affiliate link).
Peter has used this family run business over many years to replace stock originally supplied by manufacturers and has found them reliable, competitive and helpful. They do sell overseas, but obviously the postage and packing costs will be more than for UK customers.
Core pencil list from Bonny Snowdon
Bonny Snowdon, a pet portrait artist in Yorkshire, UK, has provided a core list of the pencils she uses to draw animals which is available for free here. 
She combines pencils across several brands, including Faber Castell Polychromos, Caran d'Ache Luminance and Pablo, Derwent Lightfast, Derwent Studio, and Derwent Drawing pencils. Her downloadable file also includes 4 mini tutorials using these colours to draw dogs eyes, noses and fur, along with tips for drawing leather, in the form of a horse's bridle.
Bonny has also written a book for coloured pencil pet artists, that is well worth investing in if you enjoy drawwing animals. It is available on Amazon, here (please note this is an affiliate link. If you purchase by clicking this, you will not be charged any more, but this site will benefit by a small amount of commission). 
Would you like our occasional newsletter?