Aquarelle background tutorial
Let's watch an aquarelle background take shape step by step. Using watercolour pencils in this manner allows us to achieve smooth backgrounds to our artwork simply and quickly. 
These are not so easy when working only with dry coloured pencil points, although some techniques for doing this are described on this site, such as using powdered pencil pigment or utilising a pad of felt to rub colour into the surface of the paper from a similar "paper palette' as used in the following demonstration.
Your picture can be produced entirely with watercolour pencils (aquarelles) as illustrated in this mini tutorial. Or you can create the background in this way and then complete your project using dry coloured pencil on top. 
This picture was entirely invented in Peter's head and not worked from a reference photo so the composition was worked out at the same time as the painting (at the end you will see why that may not have been a great idea). 
I will let Peter tell the story in his own words. 
Scottish Hillside Scene - A step by step aquarelle background
This project was started at one of Peter's Knuston Hall workshops where the questions of how to work an aquarelle background was being discussed. He had some stretched paper to hand so he set out to show how the colours were obtained and developed. He took photos while working on this short demo. He also goes on to explain how the picture was taken further after the class. 
For this project I started with ...
a fresh piece of stretched Fabriano Classico 5 Hot Pressed paper
a row of small bowls containing clean water
a small sheet of rough paper, on which pigment from the pencils is deposited
a nylon no 6 brush
(This is an affiliate link, using it will help to keep the site online as I earn a little commission without it costing you any more).

The first step was to moisten the individual areas of pigment laid on the rough paper to make them able to be lifted with the brush and then added to the bowls of water to make VERY thin pale washes of colour. It is wise to make up much more than you think you will need ... you will use very little pencil pigment and it is better to make up too much than to try to duplicate a colour later.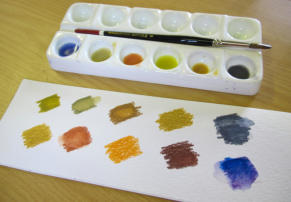 The 'palette' of aquarelle pigments
The very thin layers of colour wash are laid down on to dampened stretched paper so that colour flows smoothly over the paper surface. The actual colour is very thin and it can take several layers of colour to start to make an impression. Remember that watercolour goes on to the paper darker than it will show when dry. 
Without any real plan of campaign, I painted in some hills.  The line of what could be a road or a stream was left as the clean paper. The sky had two layers of very pale blue from an ultramarine source (i.e. a darker purplish blue). 
The initial pale washes of colour
I tried to crop into the photo to give you a detailed shot, but I am afraid the quality isn't very good. As you can see the layers of colour may be thin, but each layer adds to the previous ones and the effect is graded colour under total control. 
It may help you to see another scaled up portion of the washes which has been colour adjusted from the original photo so that you can see what is going on. The layers of colour may be thin, but each layer adds to the previous ones and the effect is graded colour under total control.
I have now taken the colour washes on a stage and decided to make those left hand hills into more definite mountains. There is also a darker line of nearer hills on the right
This is a case of decision making 'as we go along'.  Next I added some shadow along the road/stream edge.  Still not sure what the overall subject will be.  What might have been just general hillsides will now, I think, take on a Scottish air and have more golden colours in the foreground.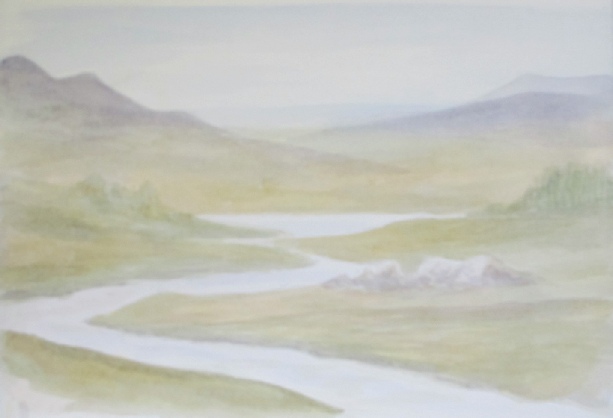 A couple of further washes of ochre shades have now been added to the green and I have put away the wash brush and the bowls of thin colour and looked afresh at the picture to decide where to go next.
You will see that I have drawn in some Highland cattle on the right and also added some trees in the middle distance.  Some darker shading has been applied to the left hand side high ground in the distance which will give a focal point of dark against the light of the sky.  
I have now decided that the road in the foreground will have more 'life' if it is a stream. It may well become narrower as the picture progresses, but we will see.
All the later colour additions after the ochre washes are still dry watercolour pencil shading.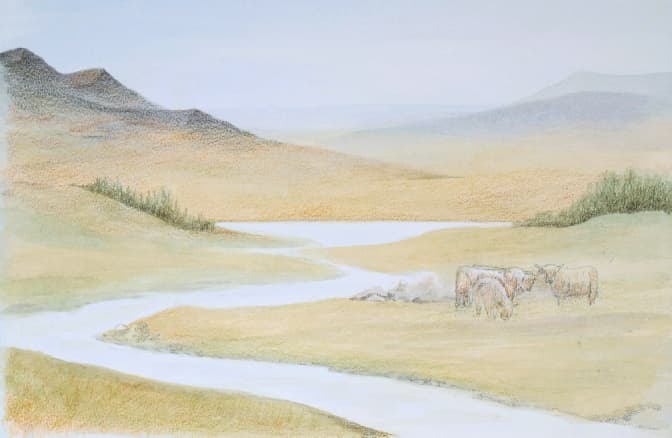 Adding Highland cattle into the scene
A damp brush has been applied to those areas of dry pencil with the result that colours have 'bounced' up in strength.
I have added further layers of green shading to the areas where the cattle are grazing and in the distant lower ground, but I think that is a mistake.  I will correct this as soon as I decide on the next action.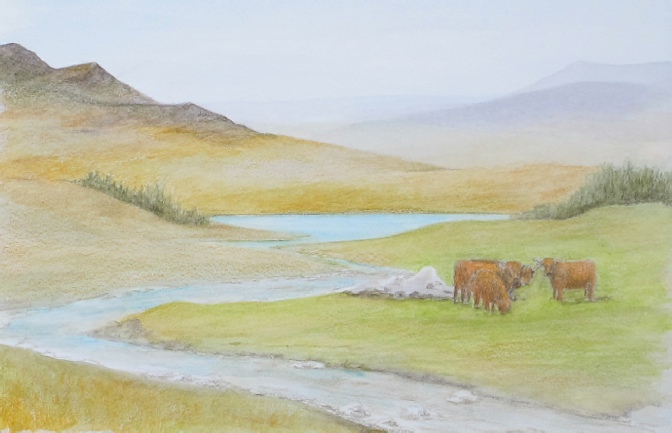 Building up the colours
I did spend some time thinking about where to take this exercise, and decided to add some trees on either side.  
Not a good idea !
The additions obscured the delicate hills on the right and changed the whole balance of the picture.  Some effort was then taken to correct this and finally the picture was abandoned.  
It serves the original purpose, though, in showing the use of underpainting to create an aquarelle background.
The 'disaster' in composition was of my own making!
The painting was not a success but it does illustrate the technique
The moral of the story is clear …. It is better to work from a reference which starts out being a reasonable composition. You can always change it, but working entirely without a guide sometimes leads to something less than good.
The exercise, does, though, show the technique of using thin washes to build up a misty aquarelle background.
---
---