How to use watercolour pencils
When learning how to use watercolour pencils there are a number of approaches. We will take some of them in turn on this page. Then we will work through a tutorial together and paint two pears. 
How to use watercolour pencils dry
These pencils can be used totally dry - in exactly the same ways as the non-soluble wax type coloured pencils. 
The pigments in watercolour pencils are usually identical to the parallel brands of wax coloured pencils from the same manufacturer. For instance, Caran d'Ache use the same pigments in Supracolour aquarelle pencils as they do in their Pablo range. Where Pablos contain oils and waxes, Supracolour contain water soluble ingredients. 
Most watercolour pencils will layer colour and show the same levels of transparency when used dry as their waxy cousins. This means that if you can only afford one good box of pencils, a top quality aquarelle set from Derwent, Caran d'Ache or similar maker will serve the purpose well. 
I find that one or two makes (such as Faber Castell Albrecht Durer, have a different, drier 'feel' that does not move as smoothly on the paper as the Polychromos (non water soluble), but still work admirably both wet and dry.
How to use watercolour pencils with a brush
This is straightforward. The pigment is applied directly to the paper in lightly applied layers.
Take care NOT to make a firm line on the paper with the dry pencil point unless you wish to keep the line after the water treatment. 
The first thing you will note when you add water is that in many cases there will be a marked increase in colour strength. For this reason it is wise to test your colours on scrap paper before launching into your masterpiece!
The brush needs to be kept fairly MOIST rather than wet (wipe any surplus water from the brush onto kitchen paper before applying it to your work). The brush tip should feel damp to the back of your hand. Using the correct watercolour brush is important, so we added a page to help you pick the right one for the task. 
By adding water, the pigment will soften and set into the paper surface giving a more even tint. If the colour is too intense, lift out the surplus wet colour with the clean dried brush or dab with a CLEAN piece of kitchen paper. If you reuse the paper you may find yourself transferring the pigment to an area where you did not want it!
Once the pigment is dry, the colour will probably be permanent. 
This basic wetting of the lines of dry colour will open up a whole range of ideas and help you show delicate tints of the original colour or alternatively, bring out strong colour effects not normally seen from pencil work. 
An example is show here using Derwent Inktense pencils. This range gives very strong colours and the first image show the dry colour only. The second image shows the addition of water to the red pigment and the final image shows the addition of water to most of the yellow pigment (I left a small area of yellow at the bottom right so that you can see the effect the addition of water has.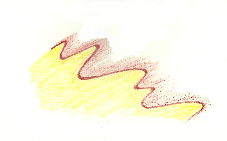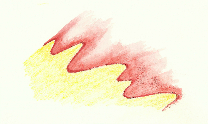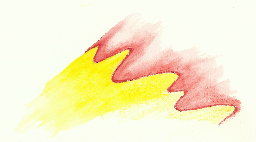 Removing colour
You can lift pigment from the surface when it is in is original dry state using an eraser. A piece of low tack tape or a blob of WhiteTac will also lift a layer of colour and reduce the strength of the pigment. WhiteTac is sticker and softer than BlueTac so it is worth investing in if you see some. If you can't find it locally you can order it from this Amazon link.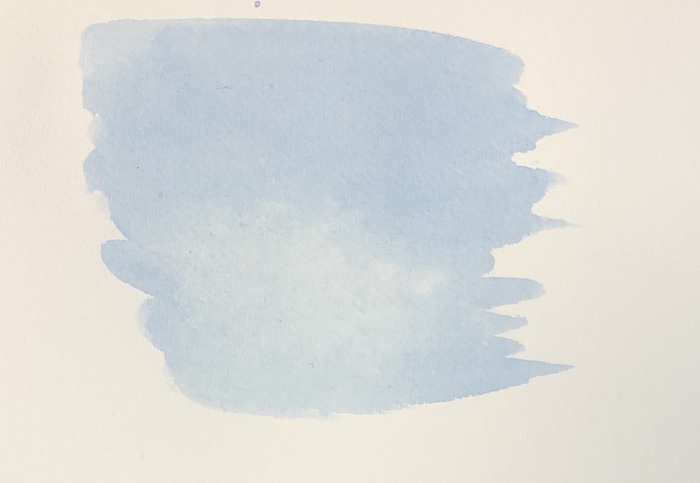 If you find the wet colour too intense, you have the option of removing some of it with a clean moist brush or tissue paper. Some colours stain more than others, and you will need to ensure you remove the surplus as quickly as possible.  In the sample above I removed an area with tissue, to create a soft fluffy cloud effect.

Watercolour paper has a 'size' or protective coating, which may give you longer to decide your course of action. Bockingford and other cold pressed watercolour papers are excellent for resisting staining colours but are possibly too rough for pencil work. I have found hot pressed papers more difficult to lift colour from. 
Cartridge paper is unsized and therefore colour soaks in and locks to the surface too quickly, offering a VERY short time for you to react. 
Please DO NOT...
Taking the pigment directly from the pencil point with a wet brush is not advisable! Nor is dipping the pencil in water then applying it to the paper. 
Water damages the integrity of the pencil core and wetting this will also end up being wasteful. This is because if you apply pressure after wetting it, the pencil is likely to snap and will need to be sharpened regularly. 
You can apply water to the pencil point, but it is my firm belief that you shouldn't. 
How to use watercolour pencils with a pad of tissue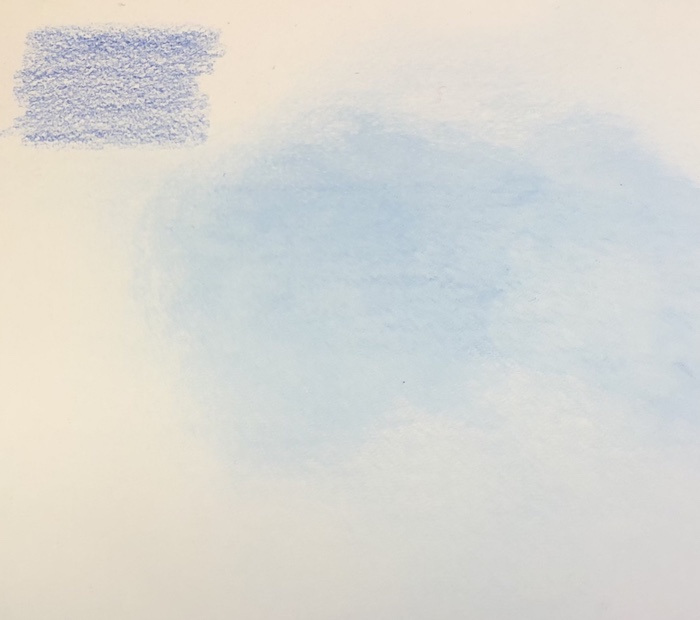 Staedtler Karat pencil applied dry then worked gently with a pad of tissue paper
After applying dry watercolour pencil to the surface, moisten a pad of tissue or kitchen paper and dab it onto the work to gently moisten the pigment. Then work with a slightly damp brush. Some of the colour will be removed leaving a more gentle wash behind.
The sample above shows one section left dry and the other wiped with the tissue. Again, it could work very well for a sky with soft, gentle clouds. 
This is a good way to shade out the colour with a small amount of water, especially if your paper won't take a large amount.  Moistened aquarelles will often produce a much more vivid area of colour than you need, and the art is to keep the amount of pigment as small as possible until you know how your pencils react. 
You can also lightly spray water onto the pigment and this will produce a different result where there is wet and dry pigment side by side, some more intense than the other. Think gravel. 
How to use watercolour pencils by shaving the pigment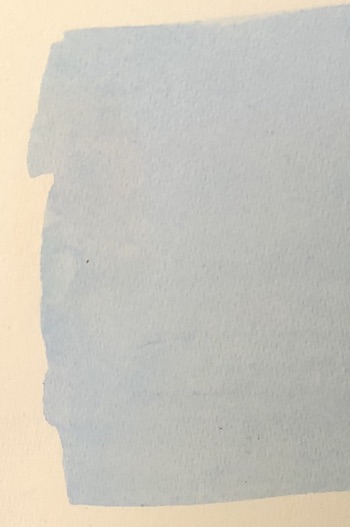 Shaved pencil into palette then brushed onto dry paper
After first sharpening your pencil to a long point, you can then take a craft knife or scalpel and scrape the exposed pigment into a dish. Be careful not to get any wood shavings in the dish. Then add water to the shavings to make a wash of colour, similar to pan watercolour paints. 
Why not just use watercolour? Well you don't have to mix your hues and this way you can use the same colour as in the dry pencils and the latter can be used to add finer detail where required. 
The soluble binder in many watercolor pencils is different from that in watercolour paints - it has to withstand sharpening after all. I have been assured by watercolour coloured pencil artists that the wash from the aquarelles if more 'friendly' and handles more easily in washes and on touching damp edges (fewer cauliflowers). I pass this on, but have no proof.
---
Another way to use shavings
Instead of mixing water into your shavings in the dish, you can drop them directly onto the paper surface and work them with a damp brush.
This works well for grasses and the like, where the brush can be used to flick the concentrated pigment giving a series of mini streaks. It can also be used for random colour effects for stones, where a mixture of colour grains are scattered into the area. 
In the first sample below I wet the paper first, then shaved the same coloured pencil as the sample above onto the paper surface. I then dabbed it with a brush to give a more blotchy effect. Used in the right context this could give just the effect you are after.
Karat pencil shaved onto wet paper then dabbed with brush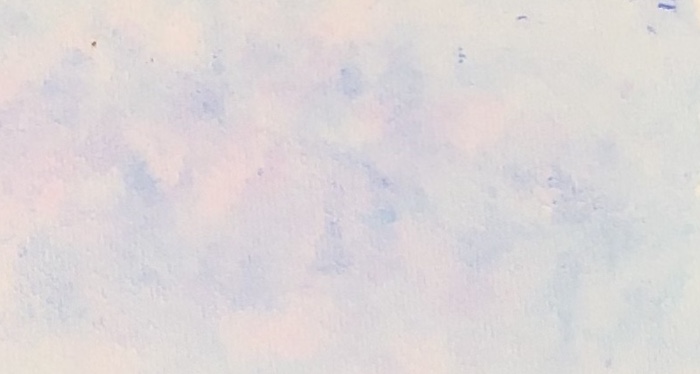 Arteza watercolour pencil used in the same manner
Interestingly when I experimented with shaving colour from a cheaper brand of watercolour pencil direct onto wet paper the different colours that made up the core colour separated giving the very pretty mottled multicoloured effect. This was actually a Sapphire Blue Arteza pencil!
Softening dry pencil sketches with a moist brush 
This can produce a pen and wash effect. It is very handy for sketching when out and about. A small brush and a sealable pot of water, or a water brush, can be taken with you along with a small selection of watercolour pencils.
The technique is also useful for flower studies where the petal colour fades from a strong coloured area. Watch out for leaving a line at a petal edge though (if you don't need one). Aquarelles tend to bruise the paper surface if a strong line is laid down, leaving a line that persists through the later wash. A gently shaded area of colour will work much more reliably for producing a fading wash with no remaining line. 
How to use watercolour pencils using a paper palette
Pencil colour can be laid down onto sanded paper, or rough watercolour paper, where it can then act as a palette. 
Peter uses a 400 grit Hermes paper which is light grey in colour. You could use any suitable fine grit paper found in the DIY superstore which is light coloured and waterproof, Rub dry pigment from your pencil points (this will keep your pencils sharp at the same time) and then apply a damp brush to the block of colour. You can even mix two or more colours on this palette before adding the pigment to your painting.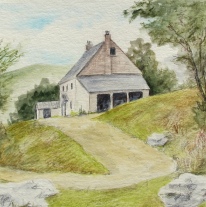 Watercolour pencil sketch of Welsh farm 5.5 ins square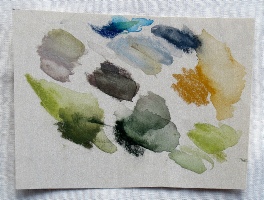 Hermes P400 grit paper used as a palette for pencil pigment
How to use watercolour pencils when travelling ultra light
If you enjoy painting 'en plein air' instead of taking a watercolour tin, or a selection of pencils, prepare a palette as above with the colours you may need. This will act as your paintbox. Add a surface to paint on and a small brush into a lidded tin, along with a graphite pencil if needed. After emptying your tin on location, fill it with a little water and start painting. 
Two pears - a simple exercise
For those of you who would like to try out a simple exercise which covers the basics of how to use watercolour pencils, the example of two pears below was used by Peter at workshops for several years. 
The original reference was not one of his own images, and probably came from one of the free image libraries that he dipped into when he first started out with coloured pencils. If you know the source and can let us know we will acknowledge it here.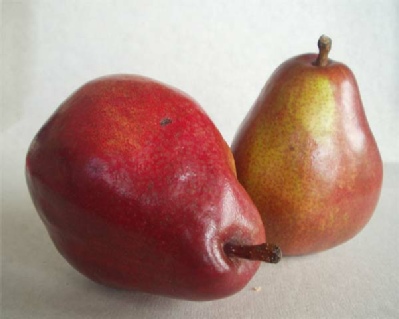 Pears reference photo
You will need...
Hot pressed watercolour paper around 300gsm - fairly thick and relatively smooth
A small set of watercolour pencils - Staedtler Karat pencils were used here
A watercolour brush
Colours used...
001 Yellow (light yellow)
029 Carmine (dark red)
076 Van Dyke Brown (a dark red/brown)
057 Olive green (a brownish green)
006 Violet
Mid grey
Start with a small piece of paper and lightly draw the shapes of the pears. You can use a graphite pencil but a grey watercolour pencil would be better.  If you have a problem drawing the shapes, first draw two circles for each pear, and join up the sides. Erase any lines you don't need and you are ready for colour! 
Using two dry watercolour pencils (first yellow and then a dark red) lightly shade in a layer of colour, keeping all your lines curving in the direction of the shapes and keeping clear of areas of shine which will stay white. 
Remember when learning how to use watercolour pencils that two light layers is better than one heavier covering!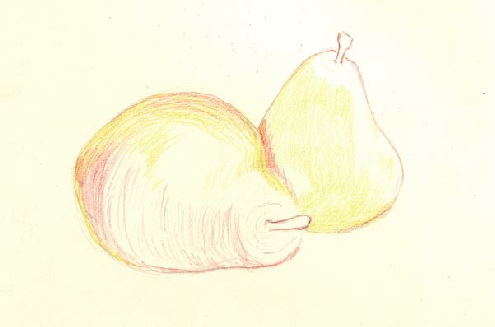 Once you have covered the pears with a first full layer you can add the stalks with a dark brown. 

Add a further layer of the yellow and dark red, using small, light, circular strokes and making sure  your scribbles keep to the shape of the pears. 
Save your heaviest strokes for the darkest areas. Look at the photo and you will see that the area of darkest shadow is as dark as the stalks. This is where you are going but there are a few stages yet.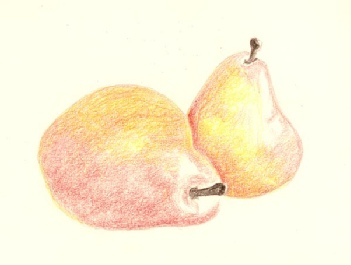 We can now take a damp watercolour brush and merge these colours - keeping clear of the areas of shine.  Work from light areas to dark and don't get your paper too wet.  Your brush should follow the lines of the pear skin. It may help you to use a 'dabbing motion' with the brush and keep wiping it on a scrap of kitchen roll to remove excess colour.
The colour is now much more intense, and forms the base for more layers of dry pencil.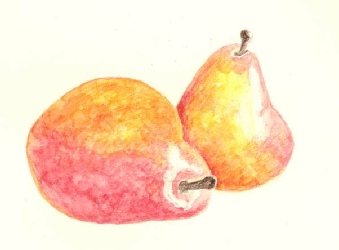 Allow your artwork to dry thoroughly before moving on. If you feel that your colour base is still too light, you can add a further process, repeating the stages above.
We can now add more layers of dry colour.
The aim now is to build up depth of pigment on top of the tinted paper surface.  
At this point we could move over to wax based Coloured Pencils as we are not going to use any more water, but for this exercise I am using the Staedtler karat pencils throughout.
After layers of red and yellow again, we can add some violet (No 6 and Olive Green ( No 57).  
The violet goes into the dark shadow area and the green into the lighter parts of the fruit.  Successive layers of red can be applied until the colour depth reaches the desired degree of darkness and richness.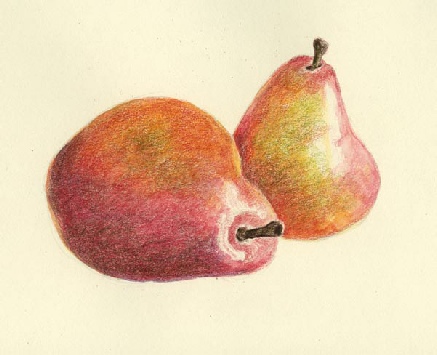 Finally the shadow is applied under the fruit and also some marks on the fruit surface with the Van Dyke Brown (76).
You can continue working on the fruit and get the colour deeper and stronger, but this is a satisfactory point to finish.
Go back to the reference photo and see how dark the shadow area is between the pears - it is nearly as dark as the pear stalks. The darkness of the rear pear shadow emphasises the lighter edge of the forward one and separates the two.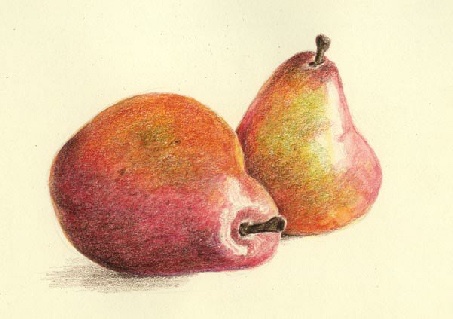 This exercise shows you how the dry colour can be built up and then merged down into the paper with a damp brush.  
It then goes on the show how further layers of dry colour bring up the detail and build on the depth of colour the earlier stage has put down.
I hope this introduction to learning how to use watercolour pencils has been helpful. 
You might like to watch the progress of a landscape painting using watercolour pencils, step by step. 
---
---