Does wax bloom affect your coloured pencil art?
If you read books on Coloured Pencil Techniques or follow discussions on Internet Forums, you may well see the problem of wax bloom mentioned and the different ways people work around it.
Readers in Europe and outside the USA are less aware of the problem, as the difficulty arises from the wax carriers used by two of the major manufacturers, Sanford's Prismacolor in the USA and Derwent in the UK.
Users of Polychromos (Faber Castell) : Pablo (Caran d'Ache) : and other oil based and low wax content brands will not usually have any problem. The soft touch Luminance from Caran d'Ache is Oil based, and I am assured it does not cause bloom and no one has come forward to say it does !
What is wax bloom?
It is a fine grey powder coating that develops on a heavily waxed surface which can obscure the detail of an artwork completed in wax pencil.
You don't get wax bloom unless there is a lot of wax material on the paper surface and you don't get it if you use an oil based pencil brand such as Polychromos, Pablo, or Polycolor.
It is not the end of civilisation as we know it, if it occurs, and those who use wax based pencils often prefer to stay with their wax brand and work around any bloom which arises rather than change brand.
It is notable that Caran d'Ache adopted oil as the base for their new 'top of the range' Luminance pencils even though they use wax for the rest of the CP lines they manufacture.
I haven't had a problem with bloom myself, but then I use underpainting to get depth of colour and I tend to use Oil based pencils for my own work.
USA based Prismacolor do warn of the problems of bloom with their pencils - particularly when used in hot or humid climates which lead to the wax crystals migrating to the surface of a completed picture. To reduce the possibility of bloom, Prismacolor recommend spraying the work at intervals with a workable fixative and then final fixing at the end.
Wax bloom generally occurs and shows where dark colours have been laid down in many layers and then well burnished so that the coloured top layer is sealed off. Bloom can be removed by gentle wiping of the wax surface and there are preventative sprays which can be used to fix the surface to try and stop it from returning.
What does it look like?
American artist Brandy Perez has kindly allowed me to use some of her artwork to illustrate. ( Note the images are all copyright of Brandy Perez 2009).
Here you can see bloom on a wax pencil portrait of a steer.
The bloom forms a grey dusty coat over the surface of the wax pigment obscuring the image.
A small area on the right has been carefully wiped over with a dry cloth revealing the original strong colour beneath.
This set of four images shows the process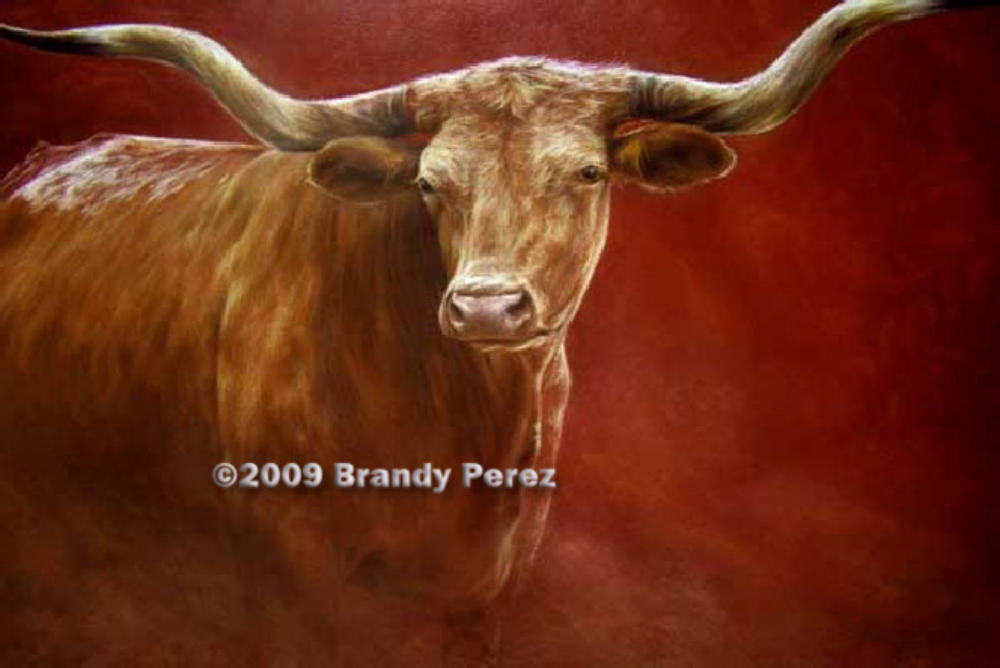 This is the completed picture
This picture was worked on a rust coloured Colorfix paper (a sanded type of surface which holds a lot of media) and Prismacolor pencils. The picture is approx 16ins x 20 ins.
See the page on Backgrounds which also features this work. You can see more of Brandy's work at: http://brandyperez.blogspot.com.
Prevention and 'cures'
In the USA, Krylon manufacture a range of fixatives some of which are suitable for a final fix of the finished work and also contain UVA protective filters.
In Europe there are a range of fixatives available, most manufactured for the finishing fix of pastel, watercolour and graphite pencil. Daler Rowney and Winsor & Newton both market fixative sprays that work in this way, though the regular users of fixatives, seem to recommend either Krylon, Grumbacher Myston, or 'Lascaux Fixativ' which is manufactured in France.
The Lascaux fix seems to have the least number of complaints about results and a number of CP artists swear by it ( rather than 'At' it ).
Winsor & Newton Fixative has been reported as changing reds and purples in some cases, and the cheaper sprays have a number of horror stories about changes of colour and dissolved surfaces.
Remember that these sprays are made for Pastel and are not usually recommended by the manufacturer for coloured pencil.
I have heard of one or two artists who commented that the Krylon can dissolve heavy layers of wax ( possibly when over sprayed ) and also can result in flecks of white appearing on dark surfaces.  This is possibly due to dust in the atmosphere being picked up, and possibly down to a raising of the paper surface where white flecks of lifted cotton from the paper show on a dark wax finished surface.
As indicated above, Sprayed fixative can produce colour shifts in the pencil media so this is not a reliable cure.
The universal recommendation is that if you are going to spray, use very light spray coats and let them dry, building up several layers rather than try to do a single heavy coat. Also with Aerosol sprays, ensure that you are cautious as the can reaches the last dregs as the spray pattern could well become irregular.
As far as I know Krylon sprays are mainly available in the USA, though there are one or two retailers in London now reported to be holding stock. A search over the Internet may assist if you feel this type of spray is the only solution.
Winsor & Newton and Daler Rowney sprays are generally easy to find in the UK.
In Europe there are several fixative spray manufacturers all making the sprays for pastel
Don't be tempted to try hair spray! - it was not designed to be archival for artworks.
Possible the most highly recommended ( and also one of the dearest ) Lascaux Fixativ, is available from Internet suppliers like Great Art ( Gerstaecker group ) and Amazon.co.uk (this is a direct link to the product on Amazon and if you use it to place an order I will receive a small amount of commission to help keep this site live on the web. I thank you in advance.).
The Lascaux Fixatv is acrylic resin based and has no complaints recorded against its use for coloured pencil as far as I can detect. It is the brand which is most likely to work and work well.
On the fixatives page we look again - and in more detail - at fixative sprays available in the UK and Europe. I have not been able to test or comment on most of the fixative sprays sold in the USA as the majority of these contain problem ingredients and are therefore not exported overseas.
One USA manufactured spray is imported into Europe though, and this is an environmentally friendly product called SpectraFix - made from milk casein and containing only alcohol and water as other content.
The Fixative works over coloured pencil as a means of opening up a wax or oil saturated surface for further work and MAY well also provide a fixed surface to protect from bloom. I have no test information on bloom prevention with this product as at March 2012, but will post a further note here, if, and when, I know more.
SpectraFix is manufactured as a Pastel Fixative so there is no certainty that it will work to prevent bloom in wax media.
We do know that it does not appear to affect colours and it does not appear to dissolve the surface in any way. It does work as an intermediate spray.
---
---