Painting and drawing tools
Many of the everyday painting and drawing tools found in the studio were originally designed for a totally different use.
Let's take a look at Peter's 'useful box', as he calls it.
Peter keeps all his painting and drawing tools in a lidded plastic sandwich box. To keep it extra secure the lid is held in place with two strong elastic bands, so it doesn't open when he takes it with him when drawing out of the studio.
In addition to the box, he also has at hand a plastic pot containing a large blob of BlueTac mounting putty and a battery powered sharpener (a Dahl 00230).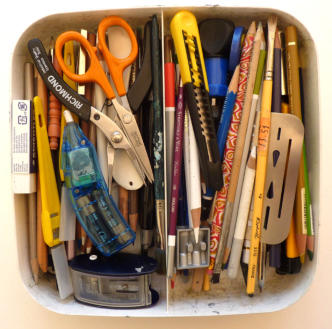 What's in the box?
The next photo includes letters beside each item. These are discussed, in order, below. 

A: Card, coloured on one side with black felt tip marker, which has a square hole cut in it.

This enables Peter to get a quick fix on tonal balance by comparing an area of a reference picture with the same area of worked picture. He can compare the area against both the black and white sides of the card and work out if he has gone dark enough with his coloured pencil application. Often the answer is 'NO' and further layers are needed. 
B: A typist's correction shield
This shields an area when correcting with the powered eraser, allowing a neat straight edge. The small cut outs can also be used if tiny shapes such as circles are needed for highlights in the drawing.
C: Kum brand hand sharpener
Convenient and inexpensive, this comes with spare blades and enables you to get a longer point on a hand sharpened coloured pencil.
D: A small two hole hand sharpener by Staedtler
E: A Lyra pencil extender
This enables pencils to continue to be used when they nearly used up and tricky to hold. They also allow you to hold a slightly longer pencil further back and hence apply a very light layer to the paper.
F: A pair of dividers and a bone folder
With the dividers you can measure small distances when plotting out your drawings - helpful when checking the size of eyes to see if they are the same. 
The bone folder can be used for transferring image lines from tracing paper to the drawing surface. Be careful not to press too hard otherwise you will indent the paper. 
G: A collection of painting and drawing tools for indenting lines
Sometimes you DO want an indented line! Various things can be used for this purpose. The picture shows the black double ended stylus from Derwent, along with parchment craft tools. The right hand object is a bristle brush which has had the end sharpened. 
H: An assortment of old brushes and colour shapers
There are some watercolour brushes and some bristle brushes here.
The colour shapers are all silicone ended and have varying hardness and tip shapes. They are used for shaping and blending pastel pencil on the paper. 
I: Traditional graphite pencils and mechanical pencils 
These are used for the initial drawing and for fine details. There is also another pencil extender in this section which has wandered from its correct place. 
J: A collection of white pencils from a range of brands
This makes it easier to find one when needed than searching through lots of tins or cases. 
K: Blenders and burnishers
Shown are a Lyra Splenda Blender along with the Derwent Blender and Burnisher pencils. Check out the burnishing page for details on how to use these.
L: A battery powered eraser
These are inexpensive and refillable, a valuable addition to any collection of painting and drawing tools.
M: A plastic eraser from Staedtler
N: A handy pair of pliers
You wouldn't believe how often these get used - and borrowed during a class
O: A biro and a collection of odd coloured pencils
Too many pencils finish up here, they should be in their own boxes!
P: A fine tipped black marker
Q: Some pieces of thick white felt
These are used to rub in powdered colour for skies, or for transferring colour off of a homemade palette before rubbing them in.
R: A safety paper cutter
S: Two sharp knives and a small pair of scissors
Craft knives are ideal for sharpening pastel pencils. 
Additional painting and drawing tools
Other items that can prove useful to keep at hand include...
My personal toolkit includes pencil blending stumps for, well, blending.
A soft cosmetic brush to remove 'bits' from the drawing surface (much better than using the back of your hand or blowing on your work). 
A large feather (used for the same purpose as above)
A Rocket blower (an item from the photographer's back pack, designed for keeping lenses clean) again for removing pencil dust from your drawing
Zest It! Pencil Blend and a small nylon brush to apply it
Good quality watercolour brushes for watercolour pencils
A roll of kitchen paper or old fabric scraps - for drying brushes after dipping in solvent
A small water pot or water brushes
Spare batteries (for sharpeners and erasers
A roll of Scotch Magic Tape - ideal for removing detailed areas of a drawing which are too fine for the electric eraser
Would you like our occasional newsletter?