Coloured pencil and pastel drawing
Did you know you can create a pastel drawing and then work coloured pencil over the top of it? Commonly known as a form of mixed media, these art products can work well together. Both mediums are dry and are blended on the working surface. 
In fact pastel makes an excellent base for wax type coloured pencil once it is 'fixed'. The surface provides a smooth yet absorbent layer that has just the right grip on the dry wax based coloured pencil.
There is one rule - do the pastel first and then work coloured pencil on top. It doesn't work the other way around.
A pastel drawing also works well as a base for watercolour pencil when the pastel surface is left unfixed. Both media are water soluble and will blend even when water is not used. 
What type of pastels to use
Hard pastel, pastel pencil and soft pastel - how do they differ in use?
Hard pastel sticks are usually those produced by pencil manufacturers and the medium is generally the same formula as that used for the core of pastel pencils. 
Probably the largest range of colours in hard pastels (Pastel Carre) is found in the Conte range, but many other manufacturers make the same or similar products. 
Soft and hard pastel have their own individual advantages.
Hard pastel sticks are less messy than the more common soft pastel and produce a sharper, finer line on the paper. 
Soft pastel produces a more gentle result and the higher pigment level (and lower level of filler) makes soft pastel the medium of choice for pastel portrait artists and those wanting a softer effect. 
Pastel pencils use the hard pastel as a core but provide a clean handling method. They work well for detail, but are not at their best when trying to lay down large areas of colour. 
Notes on using a pastel drawing as a base for coloured pencil
You will need a blob of white tac/blue tac to keep your hands clean. Pastel dust from soft pastels has a habit of covering every surface as well as the painted one! Hard pastel is the cleaner option, but you will still get some dust on your hands and the ball of blue/white tac held in your palm whilst working will enable you to keep the dust on your hands to a low level.
Manufacturers such as Cretacolour make available a hard pastel holder, which is a metal sleeve the size of the cross section of the pastel stick and it works in a similar way to a simple metal propelling pencil. This works, but the fuss of reloading a fresh stitch each time you change colour makes the option more of a task than a benefit. 
Keep in mind that if you wish to preserve whites or lights you will need to put these down first in a pastel drawing. You will find it difficult to add white over another colour unless you used white first, as the white pigment powder will simply make a light blend if placed on the top of a darker colour. 
In a similar manner keep your dark areas dark from the beginning and don't sully them with lighter layers of pastel. 
It is easier to blend adjacent colours from the colour wheel, than contrasting colours which tend to cancel each other out and result in dirty greys and browns. 
Lay down the basic shapes and tones with pastel. Don't try to add detail - that is the work of the coloured pencil which will come later. 
Your pastel drawing will very quickly establish the image and enable some delicate shades of colour to be produced. 
If you are suing wax type coloured pencil, you may wish to FIX your image with a spray fixative after finishing the pastel layers. The spray should be used outdoors or in a very well ventilated space. Give the surface two or three coats to lock down the loose pastel. 
Don't be tempted to use a cheap aerosol hairspray as fixative. It will fix the pastel, but darken it and also result in early breakdown of the fixed surface. Hairspray is not an archival material. 
FIXATIVE will darken the colours, particularly the whites. This is because it coats the crystalline pastel pigment and kills off the ability of the colour to sparkle and shine. 
Work you coloured pencil over the top of the pastel using a sheet of protective paper under your hand to avoid scuffing the lower surface.  I have an L shaped piece of clear plastic that is ideal for protecting the pastel drawing. It can be held in place by a couple of pieces of tap or blue tac, and you can see the whole picture through the plastic and work within the uncovered area.
The fixed pastel drawing provides a quick base for the coloured pencil and also produces excellent soft backgrounds. 
If you haven't tried it, I strongly recommend that you give it a go. 
Watercolour pencils and pastel drawing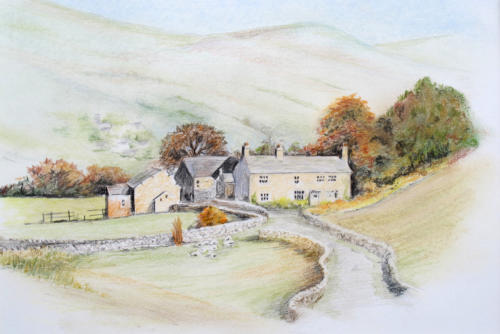 I tried a test using cartridge paper and hard pastel carre sticks to provide a foundation for working a picture. This test used a variety of colours from the Caran d'Ache 'cube' hard pastel range with white under the lighter areas of the picture. 
I then used Staedtler Karat Aquarelle pencils for the later layers. The pencils blended into the pastel well and also enabled a good depth of darks in the area around the farmhouse. The picture has an overall 'watercolour' look about it from the light tones and the nicely blended colour in the foreground ad background.
This success at creating a watercolour pencil and pastel drawing led me to try a more elaborate test - again using a farmhouse scene but this time introducing more colour. 
The picture was again worked on cartridge paper (220gsm weight) but this time a white layer was applied and bedded into the paper over the whole of the picture layer.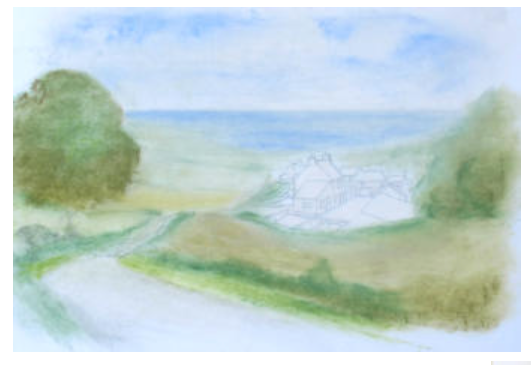 This is the foundation stage with the pastel powder rubbed into the cartridge paper surface.
I started off using the old formula Derwent watercolour pencils as this was the hardest Aquarelle I had in my collection and was the one used by the artist  who demonstrated the technique to me.   The colour blends into the pastel well, but I am not sure that it works as well as the Staedtler Karat pencils did in my first attempt.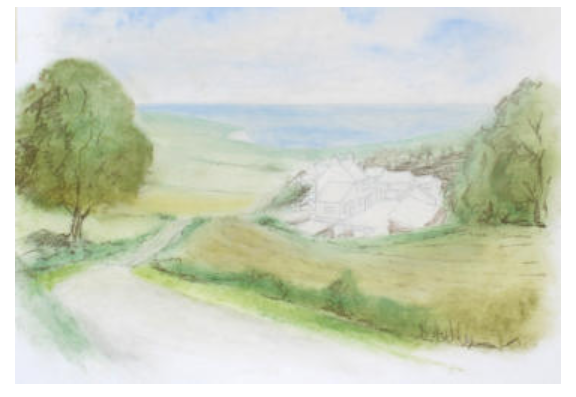 My next step is to put some sketch lines in to define shape in the trees and hedges.  I am not touching the buildings until later.The picture still has a light colour tone from the white of the foundation blending into the later colour.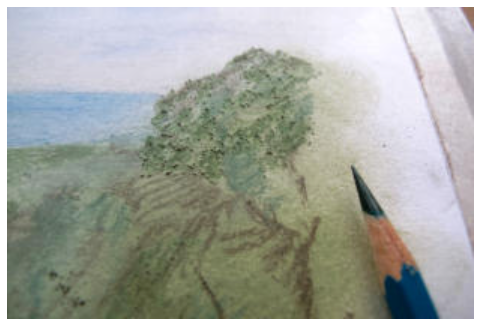 See in this detail, how the aquarelle brings up the pastel as it is worked over the surface.
The pastel dust can be worked back into the paper with either a finger or a suitable blending tool.  
It beds back down quite easily but  I think possibly the newer Derwent Watercolour pencils might have been a better choice.   I decided to transfer brand at this point and go to the Caran d'Ache Museum Aquarelles. These are much softer and have a higher pigment level.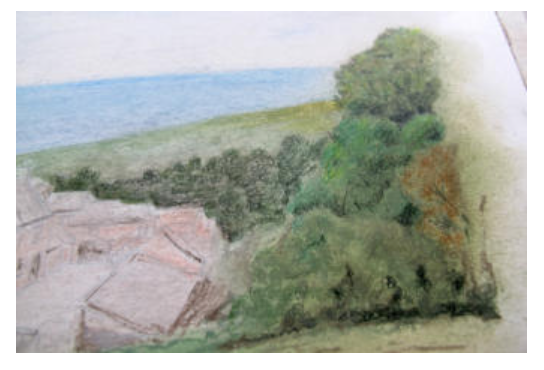 As you can see from this detail shot, the aquarelle enables some detail to be added and stronger darks built up to give shape to the right hand side trees.  
The pencil is worked into the dry pastel surface, blended in and then further colour added as needed.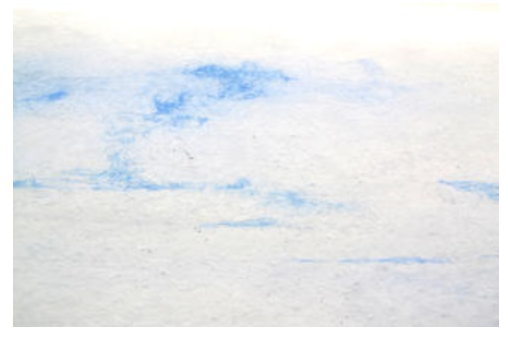 This detail of the sky shows how it is possible to introduce small openings in the cloud to show blue sky.  
Ultramarine is used here. It is best to use a darker blue than you think, as the white pastel foundation will reduce the impact of the strong colour.
Don't go too heavily into the picture adding large areas of blue sky unless you are confident that you can get a uniform blue.  I have kept my sky predominantly white, though I may add some grey shadow to clouds later to give them shape.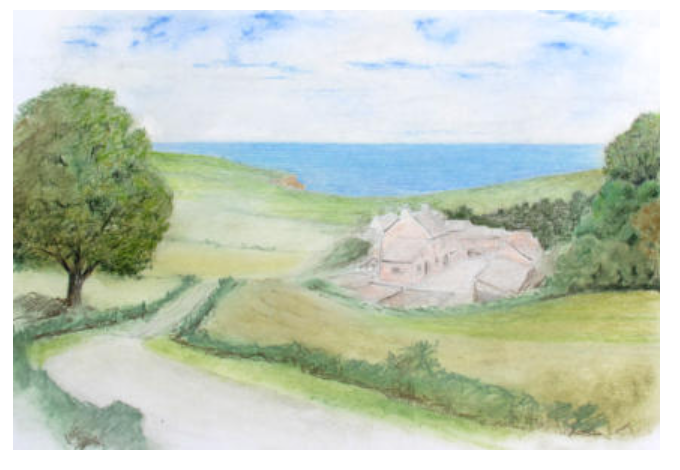 Here is an overall view to give you a progress report to date. 
I found that I had the sea too blue and the large tree on the left required balancing better into the composition.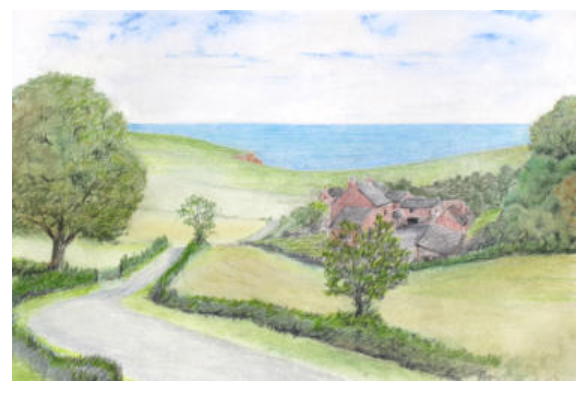 Having worked some deeper colour into the farmhouse to provide a better balance to the composition, and also included some further detail into the hedge line along the road,
I became less and less happy with the way  things were going.
I felt that the picture had gone too far for the 'watercolour' effect, but not far enough for the traditional deeper colour that my other landscapes had.  I decided to change brand again and test out Faber Castel Polychromos pencils over the assembled layers to date. These will provide deeper colour (hopefully) where required whilst being fairly transparent.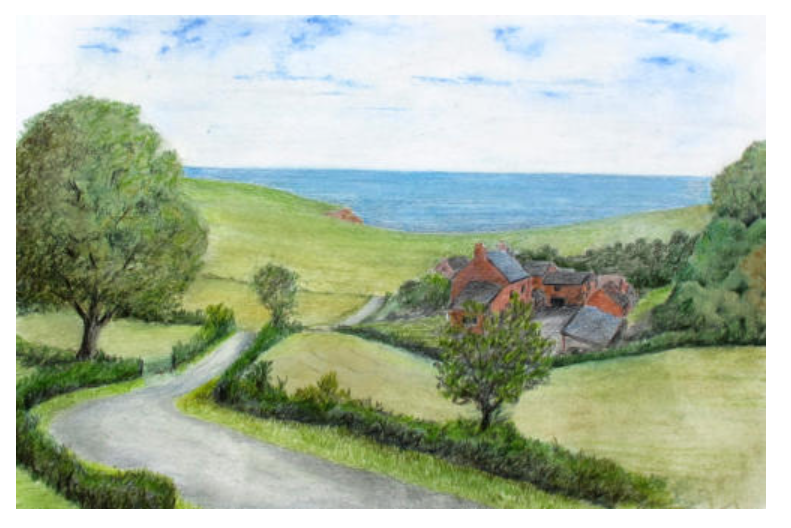 The Polychromos also responded well over the accumulated surface and also blended into the pastel surface where the previous pencil layers had not impacted too much.
I have called it a day at this point as the picture has not come up to the standard I like.
As a test of techniques it worked fine. As a work of art it has not proved so successful.  The watercolour pencil and pastel drawing doesn't look too bad in a mount and frame though, so it may find a home.
Lessons learned from this test
Pastel provides a fragile surface which is easy to blend into, but also easy to damage by scuffing with the working hand. Therefore, some sort of protection, in the shape of either clear plastic or card, is advised to have between hand and picture as you develop the picture.
From Test No 1 (The Hill Farm)  it is clear the method of putting down a layer of hard pastel as a foundation works very well for any lightly coloured area of a picture where a light blended wash effect is required.  Later layers of coloured pencil blend readily into the powdery surface and subsequent layers of colour also blend in.  I am pleased with the results from Test 1 which has a nice watercolour wash effect to it.
The sea and sky in the second test (Above the Bay) also worked well, though it proved that the white pastel may need selective application otherwise the darker coloured areas of a picture may be lightened too much to be effective for darker areas of contrast.
Whilst some of the harder Aquarelles (e.g. Staedtler), work well in blending colour, not all pencils are as successful (the old Derwent proved too hard and dry).  
The Caran d'Ache Museum Aquarelle pencils worked well over the pastel base though, so softer Aquarelles may be the answer.
The final check using Polychromos to finish off the detail also worked well and the transparent oily colour also blended into the pastel where necessary.  I would use these again over the top of Pastel.
I will certainly use the pastel drawing foundation method again. Though not as a regular alternative to Aquarelles with water on watercolour paper which, I feel, make a better and more stable foundation for a picture.
Fixing the foundation pastel layer or the first stage of pastel with CP in the sky or in water scenes, may also prove helpful, and may be the next test I carry out in this section.
A useful test, and an inconclusive result.  I don't think CP over unfixed pastel will set the world alight
Wax type pencils over Pan Pastel drawing 
Pan pastel in cake form and applied with sponges in very thin layers, works very well as a foundation on both pastel paper (Pastelmat) and cartridge paper.
The layers of pastel powder are so thin and so well impressed into the paper that there is little later movement, although the pastel can be removed with a simple plastic eraser from a paper surface if necessary.
Both wax type and watercolour pencils can be used (though not wet) to provide fine detail. I show below a picture on 220gsm cartridge paper using pan pastels and some pastel pencils with Polychromos Wax type pencils for fine detail and heavy contrast. The Pan pastel enables that lovely misty effect.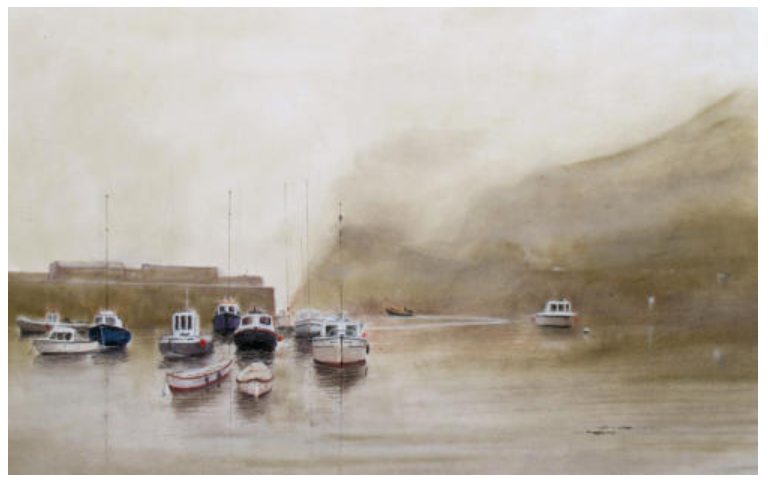 Since completing the picture shown above in 2018, I have completed several more pictures using a Pan Pastel drawing with wax pencils over it - mainly on Clairfontaine Pastelmat paper.
This is a card based 'paper' with a fine cork powder impregnated on the surface. It comes in a range of colours and is also a very stable original surface which will take wet media well.
I have come across many artists who use Pastelmat as their paper of choice for coloured pencil as it enables strong colour to be built up quickly. The downsides are the higher cost for materials and a slightly lower definition for fine detail on the slightly abrasive surface.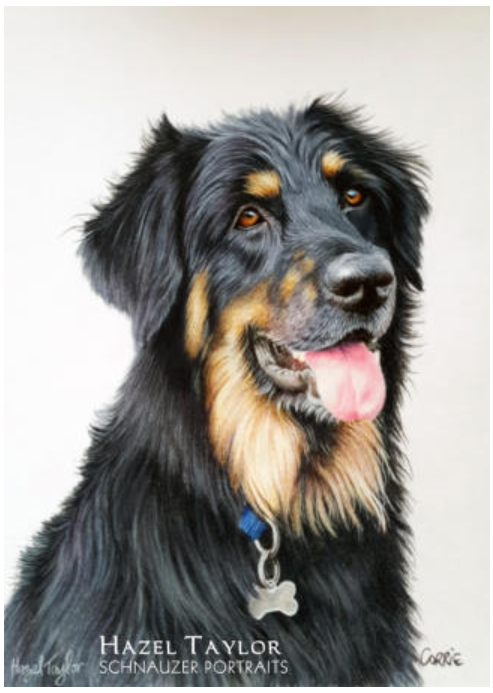 UK Based artist Hazel Taylor specialises in animal portraits to commission and has given me permission to include this superb portrait of 'Corrie'.
Hazel is a great fan of miniature schnauzers which you will be able to see with other pet portraits on her Facebook page. https://www.facebook.com/Schnauzerportraits/
The reason for including this image here is that it has been completed on a white Pastelmat card surface with a background and foundation in Pastel using Carbothello and Caran d'Ache Pastel pencils.
Detail was added using a mixture of Faber Castell Polychromos and Caran d'Ache Pablo. The picture is 9ins x 12 ins.
This shows the result of using a pastel drawing for the underpainting and oil based coloured pencils for the detail. Many of Hazel's portrait pictures are completed with this mixture of media.
Thank you Hazel.
Would you like our occasional newsletter?