Pastel pencils - a primer
Tired of the mess and dust that comes with traditional soft pastels? Look no further than pastel pencils, a cleaner alternative that allows you to work with pastels without the hassle.
They combine the best of both worlds from pastels and colored pencils. They offer the vibrant, rich colors of soft pastels while providing the control and precision that comes with a pencil. They can be used for detailed work, broad color sweeps, or anything in between.
While they may not be considered colored pencils by the international Colored Pencil Societies, we believe that their unique qualities make them a valuable addition to any artist's toolkit.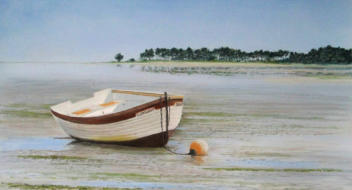 From large scenes...
...to intimate details
Do you need to work at an easel?
When you work with pastel pencils, remember there will still be some pastel dust which tends to scatter. This is where an easel might come in handy. Working upright on an easel allows the excess pastel dust to fall off your work naturally. It's like letting gravity do the clean-up for you!
But don't let this deter you if you're more comfortable working horizontally. You can always tap the back of your work from time to time to remove excess dust.
The key here is to find what works best for you. Experiment with different angles and positions - try working flat, try a slight incline, or go all out with a full upright easel. Remember, art is all about freedom and expressing yourself in the way you feel most comfortable.
Another option that produces little dust is pan pastels. 
Pros and Cons
Pros
The harder and more compacted pastel in the pencil allows them to be sharpened to a fine point enabling fine detail to be achieved.

The wooden casing makes holding and using pastel pencils much less messy than working with other types of pastel.
Pastel pencils are quicker to work with than wax or oil based coloured pencils.
Cons
It is more difficult to work on large areas of colour unless sticks of hard pastel are used for the preliminary work. For this reason pastel pencils are more often used on a smaller scale than soft pastel. Working with the pencils on top of a soft pastel base is not as successful.
Sharpening pastel pencils can prove more problematic than normal coloured pencils. Using a knife is recommended over a spiral pencil sharpener. A piece of find sandpaper can be helpful for keeping very fine points.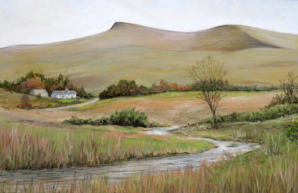 Pen y fan (Brecon Beacons) by Peter Weatherill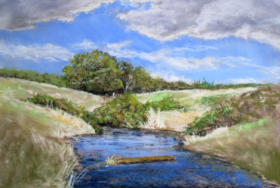 Brecon Stream by Peter Weatherill
What is different about pastel as a medium?
It all comes down to the way it handles on the paper.
Traditional watercolour or acrylic stays mobile on the surface until it dries. It dries quickly and it stays where it is put.
You can paint over watercolour (well, up to a point) which is not quite as 'fixed' as acrylic. But both these types of paint stay pretty much where you put it.
Oil painters have a totally different medium. One which is mobile on the surface for a long time before it dries. This gives artists a chance to work the surface, adding in more colour and blending colours together. Unless you add mediums to make it dry quicker, it can take weeks to dry making it easy to go back and re-work or re-blend.
Pastel has more similarities to oils than to acrylics. You can work the pastel surface and blend more colour into the existing drawing. But being a dry pigment at the outset, it doesn't need to dry. What you put down on the surface is what you get. It will always be workable - even years later.
BUT this will always be a fragile surface.
This is why we need to protect it from scuffs and handling. Pastel is best behind glass, in a frame and mount, as quickly as possible after it is finished. It can be 'fixed' with a fixative spray which adds a coat of varnish over the image. But this will also affect the colours and darken them. There is less reflected light coming off the pigment when it is behind a coat of varnish. The reflection of light off the crystals of pigment is what makes pastel such a lovely medium. It makes the images 'glow'.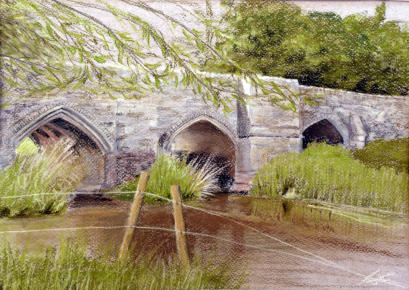 Thornborough Bridge, near Buckingham, by Peter Weatherill
A contradiction
Pastel pencils are often regarded by artists who use the traditional wax or oil based coloured pencil as the messy variety of coloured pencil.
But to artists who are fans of pastel, they are the clean variety of soft pastels.
What to buy
Check out our section that looks at the brands of pastel pencils available on the European market, how they differ, what colours they include and where we point out any major advantages and disadvantages.
We also include the pastel sticks produced by some of the pencil manufacturers.
It could be argued that the sticks are not pencils. The point of including them is that the content from companies like Faber Castell, Cretacolour and Derwent is identical to the pastel content in their pencil ranges and of equivalent hardness. The sticks can therefore be readily used to produce the base layers of a picture to speed up proceedings. Detail can then be worked over the top with the pencils. The material is the same, just the tool used to put it down on the paper differs.
We will also look at the different surfaces suitable for pastel pencil paintings. These need to be fairly rough so that they grip the powdery pigment.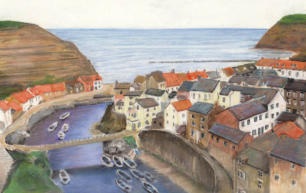 A view of Staithes, Yorkshire by Peter Weatherill
How to use pastel pencils
Here we will cover the basics of using these pencils. From learning how to sharpen them, in detail, how to blend them and what to do if it goes wrong.
We also have a large collection of step by step drawings to share with you, so you can see how a picture takes shape and the stages it goes through before it is completed. These range from a simple still life to beautiful landscapes from around the world.
Beginners still life pastel pencil tutorial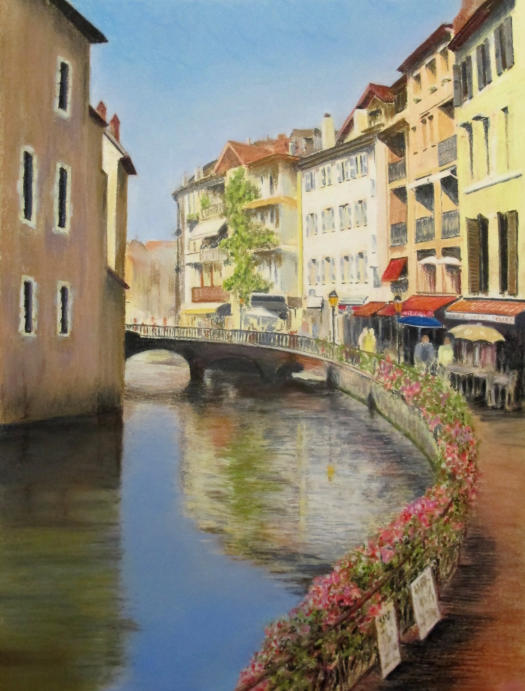 Annecy Reflections - pastel pencil drawing lesson
Would you like our occasional newsletter?