Coloured Pencil Brands
The number of coloured pencil brands available can be overwhelming. Especially if you are a new artist. Which should you choose?
If you go to a brand's website they will tell you theirs are best. Of course!
So how do you get an unbiased view?
Peter Weatherill and I (Carol Leather) are here to help you make a decision. Although if you are like other pencil artists you will still want to try them all!
 You will want to ask yourself a number of questions before making your choice
as to the best coloured pencils for you. 
Start by considering the type of artwork you create. Some brands have a colour range that is more suited to landscapes. Others offer brighter colours. One even has a wide range of pastels.
Some seem to be perfect, until you investigate their lightfastness ratings. How long your work lasts may not be an issue if you enjoy colouring books.
But if you're a serious artist it's a different matter. You don't want people coming back to you saying their artwork has faded.
There are no perfect pencil brands. It comes down to personal preference. You may choose one manufacturer's pencil from the following list. I might prefer another.
We thought a brief description of each brand's attributes might be helpful. Along with our feelings and thoughts after using them.
If you can, try before you buy. Ask a fellow coloured pencil artist if you can try their preferred brand. 
Or just invest in three or four from a variety of pencil brands. That way you won't waste money if you find they are not the right pencils for you.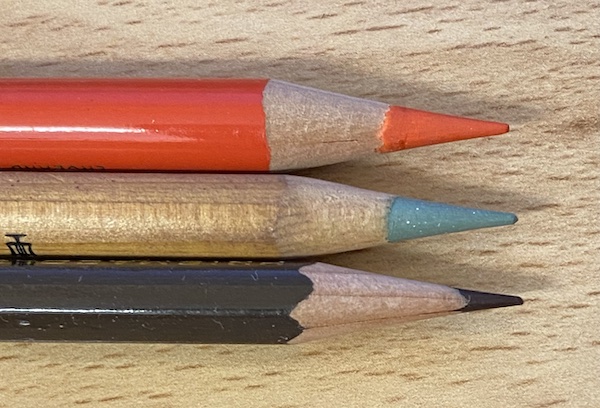 Quick Pencil Brands list
Arteza  |  Bruynzeel  | Caran d'Ache  |  Conte  |  Cretacolor  |  Daler Rowney  |  Derwent  |  Faber Castell  |  Holbein  |  Koh-i-noor  |  Lyra  |  Mitsubishi Uni  |  Royal Talens  |  Staedtler  |  Spectrum Noir  |  Prismacolor |  White Nights
You probably won't recognize all the brands listed below. Read on to learn more about them.

How to categorise pencils
Soft pencil brands

Our American friends will recognize Prismacolor Premier pencils. They are perhaps the softest pencil available, making them easy to blend. The high wax content also enables them to achieve a smooth vibrant result.
Other benefits include:

Affordability
Wide colour range (150)
However they also have some downsides:

Being wax based, artwork can suffer from wax bloom
They are known to break or crumble in use and when sharpening
They need sharpening often to keep a sharp point
The English version of Prismacolor was called Karisma. They had the same colour range, but are no longer made. You can sometimes find them on Ebay, but they are expensive.
Derwent, an English company, offers ColourSoft and Chromaflow pencils. These are soft and waxy, but not as much as Prismacolours. There are fewer colours to choose from.
Another soft pencil option is the Luminance range from Caran d'Ache. Often described as the Rolls-Royce of coloured pencils, they have a price to match!
We will include the Holbein pencils here, as they are soft and creamy. This Japanese brand was once difficult to obtain in the UK.
Medium grade artist quality pencils
Most coloured pencil brands fall into this group. They have more oil than wax, making them harder than the previous group.
Caran d'Ache offers a popular choice with their Pablo pencils. They have a velvety feel and come in 120 colours. Landscape and animal artists favour these due to the natural colour range.
Faber Castell's Polychromos pencils belong in this category.
Among their 120 colours you will find 6 warm and 6 cool greys. Animal artists find the natural shades suitable for their work. But if you like botanical art don't rule them out. There are plenty of lightfast reds, yellows and oranges.
These pencils are harder than the Pablos and sharpen to a lovely firm point.
Both Pablo and Polychromos play nicely together.
A more recent entry into this group are the Derwent Procolour pencils. They filled a gap between the manufacturers harder and softer pencil lines. Professional artists were at first excited. But many of the pencils in the range are not lightfast ruling them out for some.
Lyra Polycolor and Talens Van Gogh pencil brands are good. However, they are as easily obtainable in the UK. Polychromos users will recognize the colours in the Polycolor range. These pencils are thinner, softer and less expensive than the German brand.
The Van Gogh pencils are lovely to use. But difficult to purchase as open stock when you use up a pencil.
Other pencils to mention in this arena are...
Bruynzeel, with a limited range of nicely presented colours
Cretacolor's Karmina, again a small set of colours
Koh-i-noor, good pencils at a lower cost, but not available singly
Hard wax pencils
At times, you will find that you need a harder grade pencil. For tidying up outlines, tiny details or to indent fine lines.
The original options here were from Derwent. The Studio pencils come in a range of 72 colours. They reduced the original Artists pencil range from 120 colours to 72 in 2022.
How do these pencils differ? The short answer is in size and shape. The Studio pencil barrel is thinner and hexagonal. That's all.
Another favourite with botanical artists. But be aware that many colours in the range are not lightfast. Especially the reds, pinks and purples.
Prismacolour also manufactured a hard grade option called Verithin. As the name suggests the pencils had a narrow core. Useful for sharpening edges, the drawback was they only came in 36 colours.
Craft pencils
If your main use is for colouring books, there are cheaper options available. Keep in mind that these options may not be lightfast. Or available singly.
These include the Spectrum Noir pencils, often advertised in the craft press and on TV craft channels. There could be considered a student quality pencil rather than one designed for serious coloured pencil artists.
Another of the cheaper pencil brands you may come across is Arteza. I tried these out and have to say I loved using them. I didn't love how quickly the colours faded! Therefore, I am sorry to say I can't recommend them for art you may sell.
A note from Peter Weatherill
In my cupboard I have over 5,000 pencils from a wide variety of makers. More than I could use in three lifetimes!
ALL the reviews on this site are by myself or Carol Leather.
We have prepared this section as a guide to those new to the coloured pencil world. We want to help you avoid costly mistakes, due to a lack of information.
The opinions offered here are our own - not sponsored by manufacturers.
I have a friend in the UK who tests new coloured pencils. He publishes videos on YouTube under the name THE ART GEAR GUIDE.
Ivor Harrison is a skilled artist and not sponsored either. We tend to come to similar conclusions when testing. Do check out his videos for another point of view.
Would you like our occasional newsletter?